Forex brokers come in a lot of different shapes and sizes. In this market, you can come across STP, ECN, Dealing Desk, or No Dealing Desk brokers, and the distinction between them is quite significant.
But there's also another scope through which you can view brokers: while many of them are honest in their promises, there are still some whose goal is to trick you and steal your money. These are called scam brokers and you should do everything in your power to avoid them.
In today's review of InvestLite Forex broker, we're going to talk about what makes this particular player so unique and beneficial, and whether there is a possibility of it being a scam. So, make sure to fully read this review and not miss any details.
First impressions
As our reviewers have discovered, InvestLite is a Forex trading brokerage that doesn't limit its services to this market only. If you choose InvestLite as your trading partner, you'll be able to buy and sell hundreds of different assets, including stocks, commodities, and even cryptocurrencies.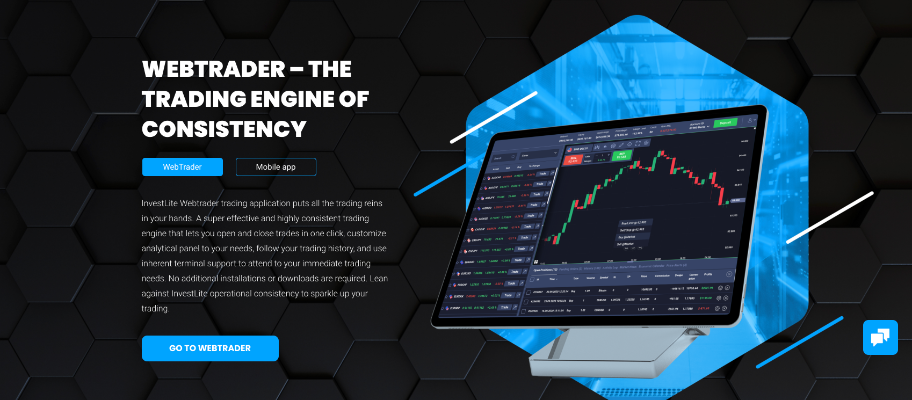 Trading terms and conditions on these instruments are pretty impressive, to say the least. InvestLite manages to eliminate many unnecessary commission charges and leave only spreads and swaps, which also get pretty significant discounts. There's also leverage that goes pretty high up with its multiplication rate.
InvestLite also cares about protecting your safety in the market. As shown during our Investite broker review, all of the activities on this platform are monitored by the Belizean Forex regulator. What's more, there are multiple fund protection mechanisms that ensure your deposits, as well as profits, are safely kept in the broker's coffers.
All in all, by reviewing its trading and safety features briefly, InvestLite does prove to be a trustworthy brokerage. Now, let's dive a little deeper and take a look at each of the broker's offerings.
Establishment background and regulation
The very first thing we need to make sure of is the broker's safety. It doesn't matter how lucrative the broker's offers are, if it doesn't treat you and your funds properly, it's all for nothing.
With InvestLite, you're not in danger of such a thing. The company was established just recently, in 2020, although it has already acquired a top-notch financial license from the International Financial Services Commission (IFSC) from Belize.
What the IFSC license ensures is that when you're trading with InvestLite, you can rest assured that the broker protects your financial stability as much as it can. And, during our InvestLite review, we also found that there are three different fund protection measures to further ensure your safety, namely:
Negative balance protection – Protecting your leveraged positions from devastating losses;
Account segregation – Protecting your funds from being mishandled or otherwise abused by the broker;
Customer compensation fund – Guaranteeing that should InvestLite goes bankrupt or abuses your funds, you can get your money back.
Everything mentioned in this section proves that InvestLite really maximizes your safety in the trading market.
Available instruments to trade with InvestLite
So, now that we've discovered that you can safely trade with InvestLite, it's time to move on to the actual trading terms and conditions. First off, let's see which instruments you can trade with InvestLite.
As we have discovered during our review of InvestLite Forex broker, there are well over 350 financial products you can trade. These products range in 6 different asset classes, namely:
Currency pairs
Cryptocurrencies
Stocks
Indices
Energies
Metals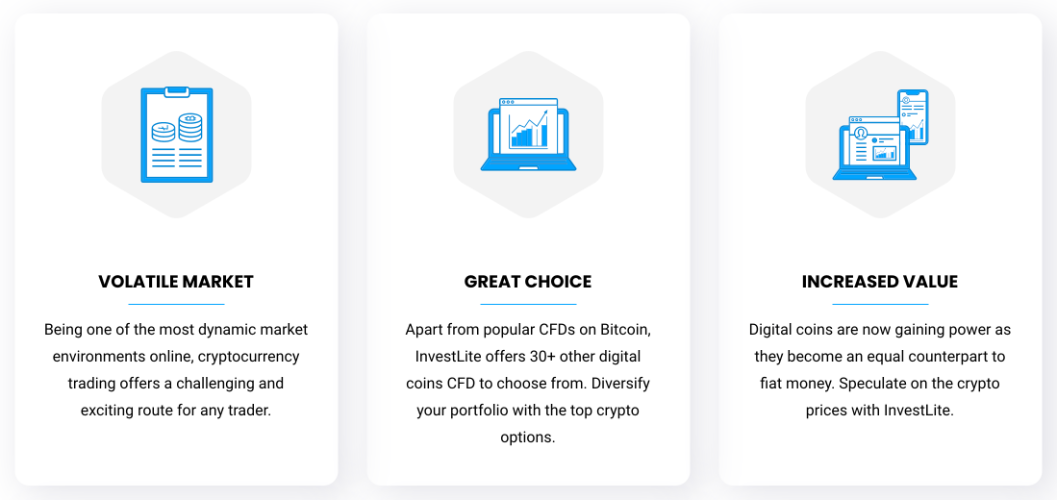 Now, even without the lucrative features that come with these instruments, their sheer number already makes trading with InvestLite so much more beneficial. You can trade many different instruments simultaneously, which helps you diversify your portfolio from market disruptions.
InvetLite's trading features
And when we add various terms and conditions to them, the whole picture becomes even brighter. Let's take a look at leverage.
If you go for a standard Silver account, the maximum leverage you can apply for goes up to 1:200, which is by no means small. To give an example, let's say you made a deposit of 500 USD on your account at InvestLite. With a 1:200 multiplication rate, you can actually open a position that's worth 100,000 USD – so, a regular lot for just 500 USD.
But as our InvestLite review shows, 1:200 is hardly the maximum leverage limit you can get with this broker. If you set up a Gold or Platinum account, your leverage offer increases up to 1:400 or 1:500 respectively. And while at this point leverage can be really dangerous, InvestLite offers you negative balance protection, which immediately closes your leveraged position once you hit 0 with your account balance.
How beneficial are InvestLite's commission charges?
Another very important trading condition we have to discuss is commission rates at InvestLite. We need to make sure that you're able to maintain most of your profits whilst trading with this broker.
And fair enough, InvestLite does feature very competitive and affordable commission levels on its platform. We're going to divide this section into two parts: trading and non-trading commissions.
Trading commissions
When it comes to trading commissions, InvestLite only charges bid/ask spreads immediately during the trade and overnight swaps. And as we have found in this InvestLite broker review, these commissions are pretty affordable. For instance, the minimum spread you're getting with this broker is 0.03 pips, whereas the overnight swaps receive discounts of 25% and 50% on Gold and Platinum accounts respectively.
Other than that, there are no commissions you need to pay at InvestLite. This includes instrument fees and account-maintenance charges. In short, the trading process on this platform is as beneficial as it gets.
Non-trading commissions
The same benefits can be seen with non-trading commissions at InvestLite. While many brokers tend to impose certain fees on deposits and withdrawals, this particular broker completely removes them from its trading conditions. This ensures that whether you're making deposits or withdrawals, you're getting exactly the same amount as you've transacted.
And while there's still an inactivity fee you need to cover, it's very easy to evade it: you can simply deactivate your account once you realize you're not going to trade for an extended amount of time.
Account packages available at InvestLite
The next entry into our in-depth review of InvestLite Forex broker is the account packages available on its platform. We're always looking for an offer that targets an extended range of customers, whether they're beginners, intermediate, or veteran traders.
At InvestLite, we have discovered that there are three different live accounts you can create. These are:
Silver Account:
Min. Deposit: 250 USD
Min. Spreads: 0.07 pips
Commission: 0 USD
Max. Leverage: 1:200
Tradable assets: 350+
Execution Type: Market
Automated Trading: Yes
Platforms: WebTrader, Mobile Trader
Gold Account:
Min. Deposit: 250 USD
Min. Spreads: 0.05 pips
Commission: 0 USD
Max. Leverage: 1:400
Tradable assets: 350+
Execution Type: Market
Automated Trading: Yes
Platforms: WebTrader, Mobile Trader
Platinum Account:
Min. Deposit: 250 USD
Min. Spreads: 0.03 pips
Commission: 0 USD
Max. Leverage: 1:500
Tradable assets: 350+
Execution Type: Market
Automated Trading: Yes
Platforms: WebTrader, Mobile Trader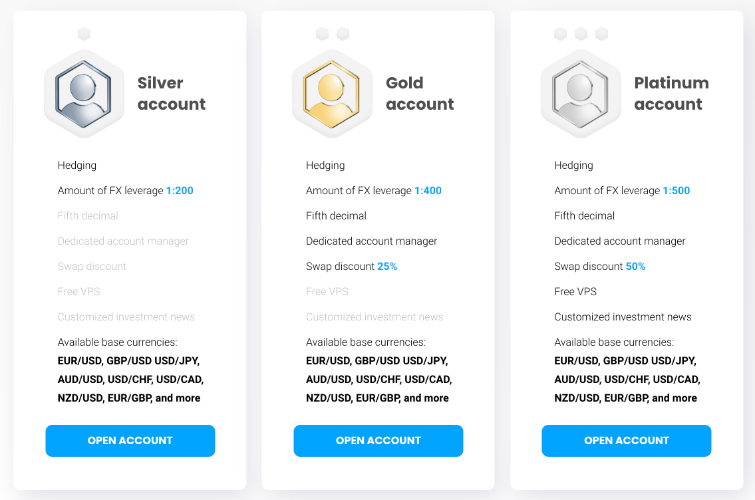 The following InvestLite review clearly demonstrates just how beneficial it is to trade with this broker. With these accounts, just about anyone can get started with trading Forex, stocks, and other financial instruments available on the platform.
What's more, InvestLite also lets you turn these accounts into an Islamic account, which comes with pretty much the same terms and conditions. One major difference is that the latter completely eliminates overnight interest rate charges, simply because the Muslim faith prohibits charging or getting any kind of interest for a service/product.
And, to finish up the accounts section, InvestLite also provides a demo account with an automatically-refillable virtual balance. With it, you can trade just about any available instrument, knowing that there are no financial commitments you have to make.
Now, in order to actually create any of these accounts, you need to go through the registration process. And, as we have seen during our InvestLite broker review, it's incredibly easy to sign up at this platform, not to mention pretty fast. So, here's the exact steps you need to take to get a full-fledged trading account at InvestLite:
Fill in your personal information, such as your full name, date of birth, place of residence, email address, and employment details;
Verify that information by uploading national ID/Passport/driver's license and bank statement/utility bill;
Make a deposit to your newly-created account.
And that's it, you now have a trading account that can take all of your orders and execute them in a live market.
Two trading platforms to get with InvestLite
Moving on, let's focus our attention on the available trading platforms at InvestLite, which facilitate the entire trading process here.
As our team of reviewers has found during this in-depth review of InvestLite Forex broker, there are two trading platforms you can get on the website: WebTrader and Mobile Trader. One thing to point out is that both of the platforms are designed based on MetaTrader 4, therefore, you're getting all of the top-notch trading tools and features available on this well-known desktop platform.
Here are some of the most prominent features of InvestLite's platforms:
WebTrader:
Tradable assets: 350+
Order types: 7+
Technical indicators: 30+
Automatic trading: Yes
Copy-trading: No
Desktop compatible: Yes
Web compatible: Yes
Mobile compatible: No
Mobile Trader:
Tradable assets: 350+
Order types: 7+
Technical indicators: 30+
Automatic trading: Yes
Copy-trading: No
Desktop compatible: No
Web compatible: No
Mobile compatible: Yes
With either of these trading platforms, you can have trading sessions that are both lucrative and stable. And, what's more, you're not compromising your safety in the market.
How can you make deposits and withdrawals at InvestLite?
Once you create a live trading account at InvestLite, the next required step is to make a deposit on it. And as our InvestLite review shows, there are tons of different methods you can use to make deposits, as well as withdrawals on/from your account, namely:
Credit/debit cards (Visa, Mastercard, Maestro)
Wire transfer
Neteller
Skrill
SafeCharge
MIR Limited
Wirecard
DECTA
SSL
Orange Pay
Payvision
PaySafe
Emerchant pay
VPay
Being able to use your favorite payment method is great, and InvestLite should definitely be commended for the diversity in this section. However, that's not where the benefits end: as we have already noted this earlier, Investlite completely removes all of the commission charges on deposits and withdrawals, making it incredibly advantageous to do money transactions.
What's more, deposits are usually executed instantly, whereas withdrawals might take a couple of days to complete. In short, benefits don't cease to stack up on InvestLite's trading platform.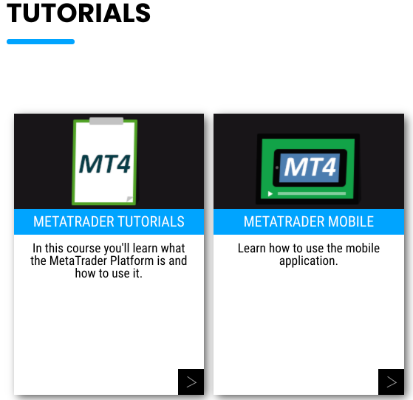 Educational section at InvestLite
As a regulated Forex broker, InvestLite is obligated to provide you with multiple educational materials. Yet our InvestLite broker review reveals that it goes way beyond this obligation: the broker really puts effort into creating a fully-functional educational section that improves its clients' knowledge in real life.
On the website, you can find the following educational materials:
Videos on Demand (VoD)
E-Books
Online courses
Tutorial articles and videos
These materials are both informative and fun to read/watch, and you never feel like the information provided in them is somehow excessive within that topic. What's more, InvestLite lets you access its educational section regardless of whether you're its actual client or not. This further elevates our impression of it being a trustworthy and customer-oriented Forex broker.
How to contact the broker's support team?
One of the main aspects of a brokerage firm, as well as any other customer-relations company, is communication with clients. The more transparent and easily-reachable a company, the more appealing it is for more and more new customers.
As our review of InvestLite Forex broker indicates, high-quality customer support is definitely among its top priorities. There are three individual channels of communication you can access on the broker's website, namely:
Live chat right from the website
Email support: support@investlite.com
Phone call: +27108807931
The support team works 24/5, from Monday to Friday, 06:00 – 15:00 GMT. This ensures that you're getting prompt and helpful responses from the team at any time of the day, all within global Forex trading sessions.
Moreover, you can always access customer support via your desktop or mobile devices, which adds an extra layer of flexibility to your and your broker's interaction.
Is it worth trading with InvestLite? – Final thoughts
So, after everything we've just said about InvestLite, whether it's about the broker's safety features or trading offerings, is it, after all, worth to trade with it?
Well, InvestLite does prove to be a trustworthy broker. Our InvestLite broker review reveals a very sturdy financial license from the Belizean Forex regulator, which ultimately ensures that you're getting the best possible treatment in the market.
Moreover, the trading process itself is pretty beneficial with InvestLite as well. There are more than 350 different instruments you can choose from, while the commission levels on them go very low and leverage ramps up to 1:500, allowing you to take your trading game to a whole new level.
For these and many other reasons, it's pretty obvious that there's nothing standing in your way to starting trading with InvestLite. Especially since it's so easy to set up a trading account with it.