LonghornFX is a brokerage firm that only takes deposits in the form of cryptocurrencies. Fiat deposits are not allowed on the site. This is a piece of good information for the crypto enthusiasts but by doing so the broker has alienated itself from a wide range of traders. which is a clear disadvantage they possess.
It is an ECN and ETP broker.  Available major currencies to start trading with include EUR, USD, GBP. LongHornFX offers over 180 trading instruments, including indices, equities, cryptocurrencies, and commodities such as energy and metals. Because they are an unregulated trading platform, they can provide a wildly high leverage ratio of 1:500
The firm's website offers a number of trading platforms, including the well-known LongHornFX MT4 and Web Trader. This FX brokerage offers both mobile and desktop versions of these platforms. this is definitely an advantage that the site has as the diversity amount trading platform is always a good thing as there are many different types of consumers of the site, which have wildly distinctive trading strategies this is why it's important to have both web-based and non-web-based platforms.
There is only one account standard account available in live and demo mode. for some trader, this could be a good thing for other very bad. overall the lack of choice is very odd, as the broker's counterparts offer multiple accounts for virtually every type of trader from beginner to an expert.
There are no benefits for them. Every Tuesday, however, there is a social media-based contest in which a lucky winner receives a $100 or bitcoin equivalent in their trading account balance.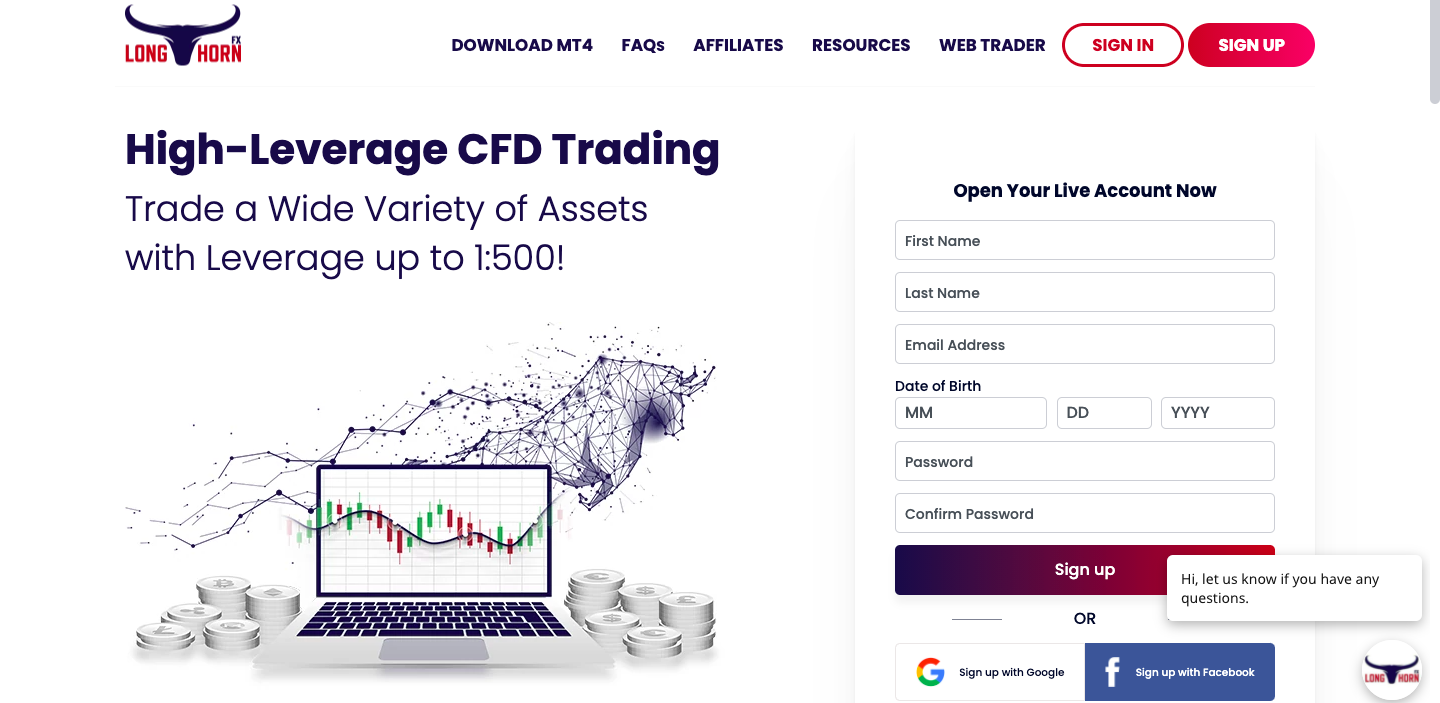 License and regulations  – Is LongHornFX legit?
Longhornfx broker is unregulated and has many faults regarding legitimacy. It is very evident from the first look that even though the site functions very smoothly there is a lack of content that can provide some clarity to the consumer.
Some trader does their business with unregulated firms, however, the lack of transparency is an issue that needs to be examined. while the regulation is not the only indicator of legitimacy, it does help a lot to have one. Some regulated firms have been displaying fraudulent actions as well. however, the overall suspicious aspects of the Longhorn broker are intentional, banking on the confusion of the traders to open an account.
all signs are alluding to this very notion. the signifies of the broker's illegitimacy are underwritten content, lack of quality, lack of security, and surface-level educational material.
The LongHornFX account's security is subpar at best. A two-factor authentication system is used. It can be configured to offer an extra degree of security to your trading account.
Trading Features
The trading features of a broker can tell you a lot about their values and strategies.  It's the first thing that any trader or even common visitor looks at before making any sort of decision. We will be discussing many aspects of the LongHornFX broker because there is not much clarity when it comes to the written content on the site. After thorough research, we have concluded that this is a deliberate action on the behalf of the forex broker. it's no surprise as the firm is not regulated and they can do anything they want. They are not transparent about any of the following features like the trading tools, bonuses, or even minimum deposits.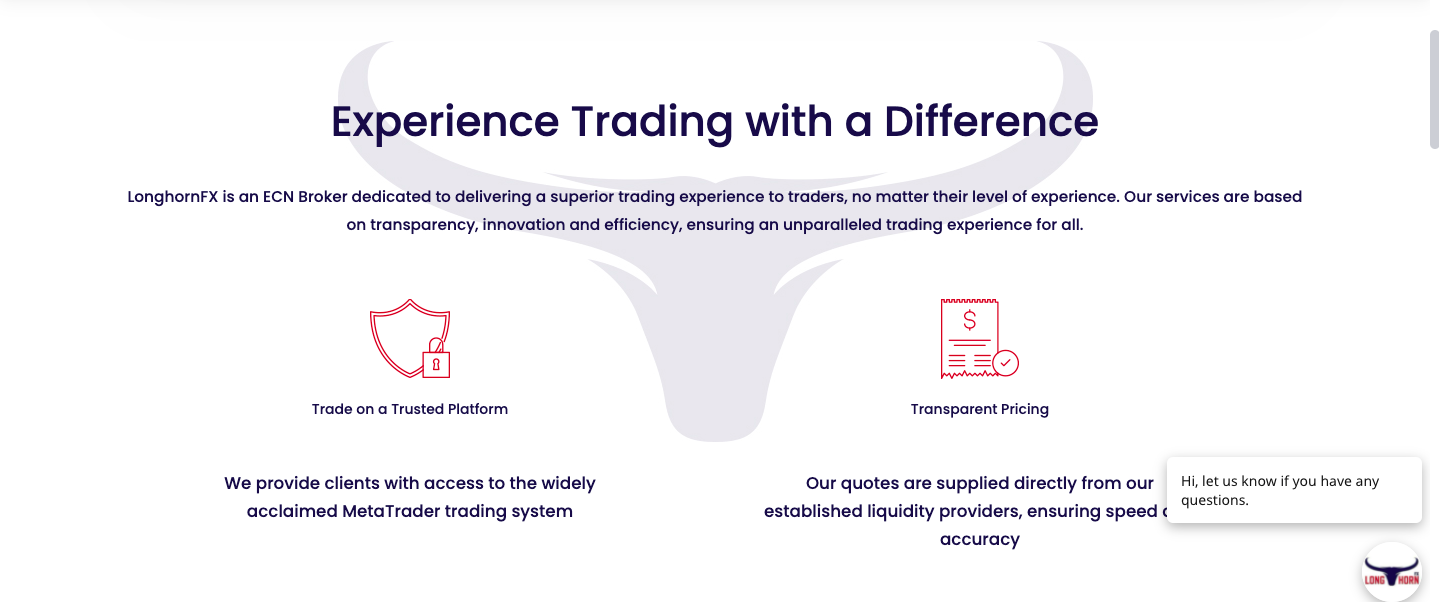 Account Types
The lack of diversity seems to be a common thing with this broker. There is only one account on the site available for traders.  This is very odd as the broker is not newly established, they have been in the industry for some years, by know one would think they would know what to do
Leverage
one can trade a variety of assets on the site with the help of leverage which is a highly important trading tool. The maximum leverage ratio the broker can provide is 1:500. which makes sense as BullHornFX is not regulated. This ratio is the maximum for trading regular currencies, for cryptos, the maximum leverage ratio that the broker provides is 1:100. as for the indices and energies, the maximum amount of the provided leverage ratio is 1:200
Spread
the spreads on the site are in a floating position which means that they are constantly changing. alongside the fact that the firm doesn't charge commissions, it makes perfect sense that the source of income for an unregulated broker such as longhorn would solely be from spreads and commission fees.
Minimum deposit
It's worth noting that the organization has no minimum deposit amount; nonetheless, they recommend that you don't deposit less than ten dollars because Blockchain transaction fees will most likely prevent it from appearing in your LongHornFX trading account balance. The network charges 0.0005BTC for every transaction based on the current BTC value.
Bonuses
There are no bonuses available on the site for the trader to benefit from. They do have a contest on the site that is social media-based. basically, it's less of a contest and more of a marketing tool to attract more individuals to the LongHorn brand.

The company has a lot of media exposure, and they've taken use of the power of social media platforms by holding a contest. Every Tuesday, LongHornFX hosts a calendar competition on their social media sites. A winner will be chosen at random and will receive a $100 cash prize in their trading account.
Our Final Thoughts
Overall we highly not recommend doing any type of business with this broker firm firstly because they are not regulated by any reputable organizations. Their products and service are not being monitored by any regulatory bodies. This is definitely a red flag. it's the only explanation on how they can afford to provide such a high leverage ratio and the available spreads are nothing to brag about either.  There are also commissions.
Costs a fee per traded lot, which can be subdivided into micro-lots if necessary. This applies to all types of instruments. A fee will be charged for withdrawals from the site, which is presently set at 0.0005BTC.
We find it very amusing that a broker that is so secretive has a strong social media presence, which is critical for information exchange. They've actually used these media outlets to promote their products before.  In terms of instructional tools, there are numerous video guides accessible on the site, however, they are extremely outdated even though there are devoted to giving information about a variety of trade-related topics.
There are few blogs as well but much like any other written content on the site it's extremely vague and unhelpful, a quick google search would be more beneficial regarding the educational material in question.
All in all, we would never recommend our reader an unregulated broker with a variety of faults. This is a clear example of what a forex broker should not be.