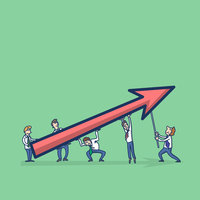 This binary options strategy is one of the most frequently used by the binary options trading professionals. The strategy requires deep understanding and quick thinking. So, Binary Options Knock-on strategy is not recommended for any of the starting traders. But in case you know what you are doing and are confident in yourself read the full description of the strategy!
Binary Options Knock-on Strategy Details
Most of the strategies that you can find on the internet will be marked as suitable for beginners. But here, at Binary Options Hub, we do not lie to you. So, do not believe anybody who will tell you that you should use Binary Options Knock-on Strategy from the day 1 of your binary options trading. You can, but you definitely should not do this!
Binary Options Knock-on strategy is often called market pull strategy and is based on the influence of the related instruments on each other. The strategy requires deep understanding of the correlations between different trading instruments.  So, the strategy is suitable for correlated stocks and some of the currencies, but not most of them.
Saying in simple words, the basics of this strategy is that significant changes of one stock will influence other instruments that are correlated with it. Do not be fooled, not all of the movements of the instrument affect prices of correlated instruments. All you have to do in this strategy is monitor the upcoming changes in the correlated instruments such as product launch or release of earnings. After that, you just observe the movement of the main instrument and predict if the correlated instrument will move in the same direction.
This is not as easy as it seems! For this reason, in order to use Binary Options Knock-on Strategy you have to get the deep understanding about how significant is the correlation between particular instruments. Believe us, it requires years of experience and technical analysis, so do not try this strategy before you know what you are doing.
Binary Options Knock-on Strategy Example
First case
Before the release of Diablo III stocks of Activision Blizzard e.g. ATVI are traded at the level of 23.01 USD. Right after the Diablo III is released the price of stocks starts to increase to the level of 24.15 USD. As you know that Blizzard is correlated with NASDAQ you make a CALL order on the NASDAQ stock with the expiration period of one hour. Since your prediction was correct and NASDAQ share price become higher strategy was implemented correctly and you enjoy increased account balance.
Good job, keep it up!
Second case
The situation is the same, there is an upcoming release of DIABLO III and current price of Blizzard's stocks is 23.01 USD. The release did not bring any positive results and stocks are now going down in value to the level of 22.59 USD. Since there is a correlation between ATIV and NASDAQ you apply knock-on strategy on binary options and predict the price drop of NASDAQ stocks. You create 60 minutes PUT order on these stocks. In one hour the price of stocks did not drop and you have lost your money.
Bad job, don't play like this 🙁
What it your mistake?
You overestimated the correlation between stocks and applied strategy when you shouldn't. Some of the movements are not the same. Also, it could be the case, that NASDAQ was influenced by other stock in positive way, GOOGL for example. This is why you need more experience and total understanding of what you are doing. Believe, market does not play by your rules, it has its' own.
Binary Options Knock-on Trading Strategy Conclusion
Overall, the strategy is great and works perfectly for advanced traders. But in order to use it, you have to be sure in what you are doing and should not experiment with this strategy on your real account. Also, it is recommended to make technical analysis, so you do not get into unpleasant situations with this strategy. In case you suspect that you are not good enough for this strategy now, go on and try our [intlink id="13″ type="page"]other strategies[/intlink]. If you are confident with your skills pick up one of the best binary options brokers and get your payday now!