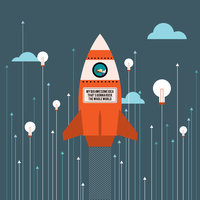 If you want to try one of the strategies that is used by every successful trader, you are in the right place! Breakout strategy is one of the core strategies that can be used for every existing instrument. There are no limitations, since every instrument is influenced by the market. It can be used by newbie with basic skills and without any advanced mathematical skills. The things you have to understand in this strategy are market fluctuations.
Binary Options Breakout Strategy Details
Main strong point of Binary Options Breakout Strategy is usage of basic theories that are well-known by binary options trader. You need to understand the market but you do not need any advanced technical analysis for this strategy.
The most important task in Breakout Binary Options Strategy is to find levels of supports and resistance for instrument you need.
The break of resistance level is a clear signal of an uptrend. This means that the price will increase. In case of uptrend you can implement Breakout Strategy for Binary Options and create CALL orders. The trend should do the rest and you should enjoy your profits.
If there is a break of the support level the market is in downtrend or bearish. Such situation is perfect for creation of PUT orders, since you are expecting the price of an instrument to get lower.
Also, do not forget that trend is going to change over time. So do not suspect the trend to be always the same and be prepared to make another analysis. It is crucial to understand when you should stop using Breakout Binary Options Strategy and wait for new levels.
Example
You trade on EUR/USD.
Currently, the price of EUR/USD is 1.034. There are no significant movements and volatility is low. You analyse current market situation and find the resistance level  at 1.072. Also, your analysis shows that the possible support is at 1.012
Than you see that the price of instrument is breaking 1.072 level. It shows that the resistance level on EUR/USD is broken and the market is in uptrend. So what do you do? You create CALL order that will expire in 5 minutes and enjoy your profits afterwards.
The other implementation of Breakout Binary Options Strategy could be in case the price of EUR/USD broke the level of 1.012. It will indicate break of the support level and a  start of bearish trend. Put orders should be created here!
It is important to understand when the instrument actually breaks levels so not to get into false breakouts. Any false breakout can get you into significant losses. This is why, BinaryOptionsHub recommends you to use technical analysis in your usage of Binary Options Breakout Strategy.
Furthermore, remember that releases of important news can influence market fluctuations and bring faster breakout of the level. So they can work both ways for you. On the other hand, they can be source of changes in trend.
Binary Options Breakout Strategy Conclusion
As you could see, the strategy is easy and working. It is important to make correct analysis and wait for levels to be broken before implementation of this strategy as well as not be fooled by false breakouts. False breakouts will bring you a lot of pain and lost money. Furthermore, you should keep in mind news that can come soon. They can bring uncertainty and no real trend. In case you feel this strategy being not made for you, go ahead and read our [intlink id="10″ type="category"]other strategies[/intlink].
In case you believe that you already know enough for binary options trading, get yourself a good binary options brokers and show us what you've got!