*76.4% of retail CFD accounts lose money
In a world of online trading, Plus500 is one of the more well-established CFD Forex brokers that has come a long way to achieve its current fame and acclaim. Starting off from 2008, Plus500 has taken its trading platform up a notch:
It has introduced over 2,000 different instruments from 7 markets, jam-packed them with lucrative terms and conditions, and became one of the members of the London Stock Exchange's Main Market for Listed Companies.
Besides these impressive facts, Plus500 also features financial licenses from 6 different regulatory jurisdictions, among which there are the UK, Australia, and Cyprus. What these licenses ensure is that if you sign up at Plus500, your money is as safe as it can get.
In the following review of Plus500 Forex broker, we're going to cover every little detail about this broker and let you know how successful you can be by doing business with it.
Plus500 broker – Company background
Plus500 is a Forex trading brokerage that was set to motion 12 years ago, in 2008. The company is managed by Plus500 Ltd, and currently combines over 200,000 international customers with a total of $1.3 trillion traded volume.
Plus500 Ltd is a company based in Israel, with an operating subsidiary in the UK, Cyprus and Australia – Plus500UK Ltd, Plus500CY Ltd and Plus500AU Ltd. One of the biggest selling points of Plus500 is that it is listed among the largest companies in the UK FTSE 250 index, as well as in the Main Market for Listed Companies of the London Stock Exchange. On top of that, Plus500 is also the main sponsor of one of the most famous football clubs, Club Club Atlético de Madrid.
Since the broker has multiple European licenses regulating its activities, Plus500 regularly discloses financial statements to these institutions and proves that it is open to scrutiny. This, added to the fact that there are no major scandals associated with the broker's name, proves that Plus500 is one of the best brokers you can get in today's trading industry.
How is your money protected at Plus500?
One of the most crucial segments of our Plus500 review is the broker's license, as well as other security measures to protect its clients' money. A proper licensing network can make sure that your broker doesn't have its arms free to scam you in any way it can, yet a shady regulation will definitely expose you to a higher risk.
It's not just about the broker's prestige that makes us say that; if you take a look at the extensive package of licenses, you're going to see the same thing.
So, there are 6 separate licenses from 6 different countries:
Financial Conduct Authority (FCA) of the UK
FCA is one of the most well-respected financial licenses in the whole industry, and it's no surprise that the brokers that are regulated under this material are considered trustworthy. The same goes for Plus500.
Australian Securities and Investments Commission (ASIC)
ASIC is also a high-tier regulatory institution. It extends its jurisdiction to the whole Oceanian region and proves to be very effective in controlling its subjects.
Cyprus Securities and Exchange Commission (CySEC)
As for the CySEC license, some people would be skeptical about its strength, especially when we compare it to the above-mentioned licenses. However, the CySEC license is still a top-level license that brings the highest EU standards on the market.
Financial Sector Conduct Authority (FSCA) of South Africa
As found during our Plus500 Forex broker review, the FSCA license from South Africa regulated Plus500's activities on the entire continent. And to fulfill its purpose, the Financial Sector Conduct Authority promotes some of the strictest financial standards.
Financial Markets Authority (FMA) of New Zealand
In terms of the FMA license from New Zealand, we can pretty much say that it is identical to the ASIC license in terms of its high standards, even if it doesn't have as much regional reach.
Monetary Authority of Singapore (MAS)
The MAS license from Singapore is also a trustworthy regulatory material. Considering the fact that Singapore is one of the most well-off countries in Asia, we can be sure that the MAS license will do its job pretty well.
Protecting your money
AS you can see, just the list of these licenses incites trust towards Plus500. However, as this Plus500 broker review shows, there are still more than just the names of these licenses. As we saw in practice, there are lots of fund security measures that really take the customer experience at Plus500 to the next level.

The moment you create an account at Plus500 and deposit a certain amount of money, your money is separately stored at different bank accounts. This way, if anything unexpected happens to the broker, your money will be on a safe account and outside the harm's way.
Another useful feature is that Plus500 is part of the FSCS Compensation Scheme. Again, during unexpected occurrences, when you find yourself losing a large amount of money, the broker will automatically activate an insurance program that covers your losses up to $85,000.
Finally, Plus500 also has a negative balance protection feature, like every EU-regulated broker because it's ESMA-mandated, that helps you in a big way. Here's the thing: when you lose money during trades, it's your account balance that's being used up to pay for the losses. Unfortunately, there are times when the balance isn't enough to cover all losses, which is when you get into the negative balance and are required to pay up. With negative balance protection, Plus500 will instantly close your trade the moment the balance reaches 0, which is one of the greatest discoveries of our review of Plus500 Forex broker.
Available CFD trading instruments at Plus500
The next important section that we're going to talk about is trading markets at Plus500. In our opinion, this is actually one of the most advantageous sections of Plus500, and here's why: the moment you sign up for the platform, you get a huge package of over 2,000 CFDs on different instruments that cover seven different markets:
CFDs on Forex pairs
CFDs on Commodities
CFDs on Options
CFDs on Indices
CFDs on Stocks
CFDs on Cryptocurrencies
CFDs on ETFs
As you dive deeper into these individual markets, you can discover some of the most lucrative trading terms and conditions for each of them.
Currencies
As a CFDs on Forex trading brokerage, Plus500 offers 71 separate Forex pairs, among which there are majors, minors, and even exotic pairs. The maximum leverage you can use for these currencies ramps up to 1:30, which means a $100 deposit can theoretically allow you to control a $3,000 capital.
Commodities
As for commodities, there are 25 assets that include Natural Gas, Oil, Gold, and many more. The maximum leverage for these goes up to 1:20, which is still nice and not too bad compared to Forex pairs.
Options
Next up, you can also trade more than 600 different options at Plus500. In fact, this is the second-largest instrument class on this platform, and the leverage for these tops at 1:5.
Indices
Some of the most popular indices found during this Plus500 review include the USA 30 – Wall Street, USA 500, and ASX 200. In total, there are 29 separate indices with the maximum leverage at the same 1:20 as for Forex pairs.
Stocks
The biggest instrument class at Plus500 with over 1,000 stocks and shares. These include some of the largest corporations like Apple, Microsoft, Spotify, American Airlines, and lots more. The maximum leverage for these contracts reaches 1:5.
Cryptocurrencies
The next asset class at Plus500 is cryptocurrencies. 13 separate cryptos, including Bitcoin, Litecoin, Stellar, and Ethereum, ramp up to 1:2, which is actually one of the largest leverage offerings for these assets.
ETFs
Finally, there are 95 Exchange-Traded Funds (ETFs) that Plus500 offers to its clients, which include SPY, XLF, and XLI. The maximum leverage for these goes up to 1:5.
Commission levels at Plus500 – Are they affordable?
Moving on, let's take a closer look at the commission levels at Plus500 and find out whether they work in your favor or against your interests. Spoiler alert: Plus500 has one of the most beneficial commission packages on its platform; it doesn't charge deposit commissions or other account-related fees. The main source of income for it is bid/ask spread quotes.

In this Plus500 broker review, we're going to talk about two commission types: trading and non-trading fees. So, let's not waste any more time and go straight to the review of these fees.
Trading commissions
As noted above, there are no account fees charged by Plus500. This means that you can maintain any account without paying additional fees. The only main charge you're going to pay will be spreads.
Commissions for overnight trades
Yet another trade-related commission found during our Plus500 Forex broker review is the rollover/overnight swap. A swap is a difference between the interest rates of the individual assets in your pairs that you pay/are paid if your trade rolls over to the next day; if the interest rate for the bought asset is higher than the sold asset, a swap will be credited to your account. And if the interest rate for the bought asset is lower, then you'll have to pay for that difference.
The size of swaps will depend on many things, including the position type of your trade (long or short), as well as the current asset price. Additionally, if you roll your trade over from Wednesday to Thursday, swaps will be tripled because they have to balance out the market inactivity on the weekends.
With other brokers, there usually is a way you can avoid paying overnight swaps if you're Muslim. They offer a swap-free account for the traders that live in Islamic countries. But to actually get it, you have to prove your residence address and your faith. Unfortunately, however, Plus500 doesn't offer an Islamic account to its clients.
Non-trading fees at Plus500
The second category in our commissions' review is non-trading fees. It includes deposit and withdrawal fees, inactivity fees, etc. As our review of Plus500 CFD Forex broker reveals, the broker itself doesn't charge any commissions for its deposits and withdrawals. Therefore, if there are no external fees applied to your transactions, be it from your personal bank or something else, you'll get exactly the same as you've deposited/withdrawn.
However, there are some exceptions that are still eligible for commissions. For example, if you make international credit card transactions, payments with unsupported currencies, or incoming/outgoing bank transfers, the broker will nevertheless charge a certain amount of fee.
Another non-trading fee, and a very specific one at that, is an inactivity fee. It activates if you leave your live account unused for at least three consecutive months. After that moment, Plus500 will impose a fee of $10 for every month of inactivity. However, it's pretty easy to guess that you can completely avoid this commission by simply deactivating an account when you don't feel like trading.
There are still other commissions that you have to pay for using some specific features. For instance, if you use the currency conversion to trade in a different currency than that of your main account, Plus500 will take the conversion fee.
The last feature-based fee found during our Plus500 review is the Guaranteed Stop Order fee. We will talk about this feature in the upcoming section; here, we can say that if you implement it in your trades, spreads will increase quite a bit.
Account types offered at Plus500
The next stop after our comprehensive Plus500 broker review of its trading terms and conditions, let's dive deeper into the logistical side of the platform and find out which accounts you can create. As we have determined, there is only one live account available at Plus500, which might seem like a big disadvantage but it certainly isn't – this account is jam-packed with useful, as well as beginner-friendly features and offerings.
Here's the list of some of the most essential features of the Plus500 retail account:
Min. Deposit: $100
Min. Spreads: Variable from 0.7 pip
Commission: 0%
Max. Leverage: 1:30 for EU/UK, 1:300 everywhere else
Tradable assets: All 2,000+ of them
Execution Type: Instant and Future Orders
Automated Trading: Not supported
Platforms: WebTrader, Windows 10 Trader, Mobile Trader
As you can see, Plus500's clients don't lose much by being locked in with only one retail account.
Islamic account
After the retail account, we went on to find out whether Plus500 offers an Islamic account that eliminates swaps for overnight trades. As we have noted, however, there was no such thing to be found on the broker's website, which definitely is a disadvantage, yet not as big as it may sound. That's because Plus500 is only represented in around 50 countries and not many of them are Muslim.
Demo account
Unlike the Islamic account, our Plus500 CFD Forex broker review shows that there definitely is a demo account that you can use to improve your trading knowledge and experience. In fact, this is one of the most beneficial offerings of the broker, and here's why:
Your account is instantly refilled the moment your virtual balance goes below $200;
The maximum cap for the virtual balance is set at $40,000;
The trading terms and conditions are practically the same as for the retail account.
In short, when you sign up for the demo account at Plus500, you're getting live market conditions, useful trading tools and features, and an account balance that never runs out. This can help you really enhance the knowledge and hone the skills in trading.
What do you need to open a live Plus500 account?
So, after you've discovered the account terms and conditions, your next move is to actually sign up for it. The registration process is quite regular and involves providing KYC-based documents. To open the account, here are the exact steps to take:
Fill in the blanks for your email address and password, full name, birth date, and the address of residence;
Provide your level of trading experience, as well as knowledge, income details, and employment status;
Agree to the provided terms and conditions;
Upload a colored copy of your identification document (government-issued ID, driver's license, passport, or residence permit), as well as your bank statement/utility bill and the national client identifier.
After that, your live account is almost ready to go. The final step is to deposit funds and go place some trades. Additionally, our review of Plus500 Forex broker shows that you can also use Google or Facebook authentication methods for better simplicity.
It is apparent that the registration process at Plus500 doesn't go too overboard with its requirements. You are required to disclose the KYC details so that Plus500 knows whom it's dealing with, as well as some basic identification documents for better accuracy.
How wide-spread is Plus500's platform?
Next up, we wanted to find out which countries Plus500 covers globally. First off, depending on where you live, the services and promotions will apply differently for you: as noted above, the international branch doesn't offer any bonuses but Plus500 in Australia does.
As for the countries themselves, there are currently around 50 separate countries supported by Plus500. As you can guess, around 150 countries across the globe are currently out of Plus500's reach, and this list includes the United States, Canada, Iran, and many more.
Which methods can you use for deposits and withdrawals?
When you create a Plus500 retail account, you have to make a deposit to finalize the whole process and start trading. During the following Plus500 review, we found out that the minimum deposit required for a live account is $100, which is pretty regular and not too demanding.
As for the transaction methods themselves, here's the complete list and their basic details:
Credit/Debit cards – $39,000 max. deposit; instant; Withdrawals in 3 business days;
Bank transfer – No limit to maximum deposit; 1-7 business days; Withdrawals in 3 business days;
PayPal – $39,000 max. deposit; Instant; Withdrawals in 3 business days;
Trusty – $17,000 max. deposit; Instant; Withdrawals in 3 business days.
Now, it's safe to say that Plus500 doesn't offer the most diversified payments platform in the world. However, those that are available offer many benefits to the clients. One of the biggest advantages of Plus500 payments is that there are no deposit or withdrawal fees – the broker only capitalizes on spread markups and commissions for some elite features.
However, there are certain conditions that would still have you pay some fees. For instance, if you withdraw money via unsupported currencies, you'll have to pay a commission. The same goes for international transactions via credit cards and incoming/outgoing bank transfers.
Trading platforms at Plus500
The next section in our Plus500 CFD Forex broker review is available platforms that facilitate the entire trading process. As we have discovered on the website, the broker features its own pieces of software that work for both desktop and web platforms, not to mention smartphone devices.

Here are these platforms with their features:
WebTrader:
Tradable assets: All 2,000+ of them
Order types: 4+
Technical indicators: About 100
Automatic trading: Not supported
Copy-trading: Not supported
Desktop compatible: No
Web compatible: Yes
Mobile compatible: Yes
Windows 10 Trader:
Tradable assets: All 2,000+ of them
Order types: 4+
Technical indicators: About 100
Automatic trading: Not supported
Copy-trading: Not supported
Desktop compatible: Yes
Web compatible: No
Mobile compatible: No
Android/Windows application:
Tradable assets: All 2,000+ of them
Order types: 4+
Technical indicators: About 100
Automatic trading: Not supported
Copy-trading: Not supported
Desktop compatible: No
Web compatible: No
Mobile compatible: Yes
WebTrader in detail
Right now, WebTrader is Plus500's main trading software. And even though it's not entirely on par with MetaTrader or other widely-spread platforms, Plus500's WebTrader is still a very sophisticated software that offers all 2,000+ instruments, dozens of indicators, price alerts, real-time signals, and many others. On top of that, there are also four different order types that include a very elite guaranteed stop order.
As discovered during this Plus500 broker review, no platform supports automated or copy trading right now. But you can be sure that even though these platforms are lacking these additional features, they balance it out with indicators, signals, and order types.
Windows 10 Trader in detail
Next up, let's take a look at the desktop-based platform, Windows 10 Trader. It is available in the Microsoft Store to download, and it's worth mentioning that it is pretty much identical to the WebTrader of Plus500.
But there are more similarities between the two platforms than just looks; they both support all instruments, indicators, and trading orders.
Trading on mobile
Finally, there's also the smartphone trading platform that is available for Android and Windows devices. Once again, these are the platforms exclusively developed by Plus500 and submitted to the Play Store/Microsoft Store, offering exactly the same functionalities as their counterparts.
Trade execution at Plus500
The execution policy is yet another trade-related detail that explains how fast and how securely the trades are executed. With Plus500, you're getting a high-tier trading platform that features instant executions and tight spread markups.
Featuring an instant execution policy means that you'll sometimes get occasional requotes, but it's not a huge deal as even in the case of your loss, there are complex fund protection mechanisms that ensure that you won't experience unfaithful service at Plus500.
Besides, our Plus500 review also shows that you can theoretically open 60 simultaneous trades and each of them will represent spreads in the fifth decimal, which provides better accuracy and smaller commissions.
Education materials at Plus500
Moving on, the next segment our review will cover is Plus500's education. Now, before we start getting deeper into this section, it is important to note that the online trading world is full of high-quality educational materials, and many of them are offered for free. Brokers, financial institutions, and other third-party entities regularly create new materials that enhance people's trading knowledge and help them make more profitable trades.

With that being said, we have to point out that Plus500's educational section isn't the most extensive sections on the market. It features educational videos and a demo account, which is pretty much what the entire section consists of. However, as we have pointed out, Plus500 knows people can find trustworthy educational materials online, which is why it focuses more on delivering some of the best trading terms and conditions, be it leverage, spreads, or execution speeds.
Educational videos
When it comes to the educational videos themselves, the following review of Plus500 Forex broker shows that there is this section called the Trader's Guide. It combines short interactive videos that cover many different topics, including the definition of rollover trades, options trading, and a platform tutorial for trading with Plus500.
On top of that, it's also worth mentioning that all of these video tutorials are uploaded on YouTube and then linked to the broker's website. But there's more: our team has actually found out that the Plus500 YouTube channel features a much larger database of educational videos. These videos cover and explain current market developments, as well as further explain how trading at Plus500 is done.
Trading research and other features at Plus500
This penultimate section of our review is going to focus on Plus500's research section. Similar to the educational section, our team wasn't able to find an awful lot of different research tools on the broker's platform. However, they're still plenty for a regular trader who practically uses a number of said features.
To put it vaguely, Plus500 offers various trading signals and indicators, which also include price alerts and sentimental charts; there are also advanced order types such as guaranteed and trailing stops. Here we explain them more thoroughly:
Technical indicators, SMS and notification alerts
The main research section found during our Plus500 broker review combines hundreds of trading indicators that can really help you closely predict the future price movements of your assets. For example, you can use various moving average indicators into your charts and try to determine certain price patterns.
Then there are SMS and notification alerts, price alerts for daily and hourly changes, and sentimental charts for more accurate trades. In short, if you sign up at Plus500, you'll get these complex research tools to increase your profitability.
Economic calendar
Another useful research feature available at Plus500 is the economic calendar. This is basically a section that brings various economic news and explains their theoretical impact on asset prices.
Guaranteed and trailing stops
Finally, there are a couple of risk management features that offer exclusive functionalities. For example,  the guaranteed stop order. Note that it is not available for all instruments and you should always check the instruments they choose if the feature is available.
And when it comes to the trailing stop order, it is a more enhanced version of a take-profit order. Instead of locking in on a specific exchange rate, you indicate that as long as the trade moves in your preferred direction, it won't close, and the only time it'll close is when it goes below a specified pip amount.
As our Plus500 Forex broker review shows, these features are really beneficial to the lucrativeness, as well as the safety of your trades.
Contacting Plus500 – Which methods can you use?
Finally, let's take a look at how you can actually interact with Plus500 and get help from its customer support team. One of the greatest advantages of Plus500's customer support is that it operates 24 hours a day, 7 days a week. Here's the exact list of contacting methods:
Email support: support@plus500.com
FAQ section on the website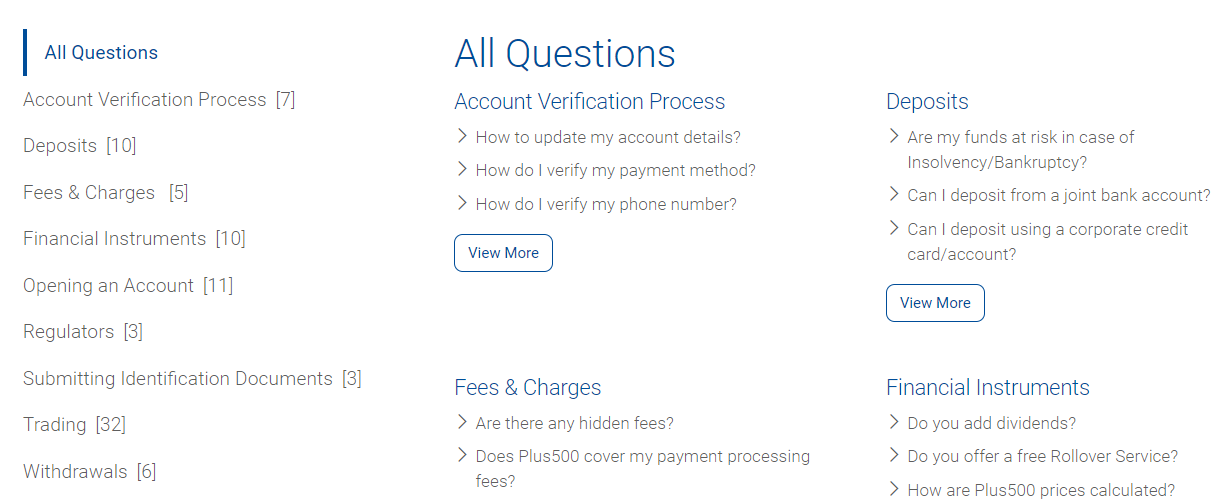 Email support
When it comes to actually contacting Plus500, you can only use its email support, which is a little bit disappointing. It would've been much more beneficial to have at least one more method, be it a live chat or mobile call, that would introduce some diversity.
However, it is worth mentioning that the email support itself has no obvious disadvantages whatsoever. When you send a mail to the support team, you'll get an answer very shortly; besides, the responses are very helpful and friendly in tone. On top of that, you can contact the broker on your smartphone device as well, which is super-neat.
The FAQ section
Now, even though there is an apparent limitation in the ways you can interact with Plus500's support team, there is this huge Frequently Asked Questions section that more than offsets that disadvantage.
As this Plus500 review of the FAQ section shows, there are many different topics that are covered by the Plus500 team itself. For instance, if you're interested in opening an account, submitting identification documents, or making withdrawals, you can probably find an answer in this section pretty easily.
Plus500 broker review – Can you trust the broker?
We have made a pretty thorough review of Plus500, talking about everything from the broker's safety measures and tradable instruments all the way to educational and research materials.
Plus500 broker was established back in 2008 in Israel, and currently has headquarters in lots of different places. As for the regulation, the brokerage is licensed by six separate financial regulators:
FCA from the UK
ASIC from Australia
CySEC from Cyprus
FSCA from South Africa
FMA from New Zealand
MAS from Singapore
Under a direct influence from these licenses, Plus500 features some of the most sophisticated fund protection and risk management mechanisms. For instance, your account is segregated to a separate bank account, your balance is safeguarded with the negative balance protection, etc.
For these and lots of other impressive features, Plus500 definitely is one of the most trustworthy brokerages you can find on the market right now. This Plus500 Forex broker review is a direct proof of that!
Frequently Asked Questions
Does Plus500 offer bonuses?
When we checked the international branch of the broker, we couldn't find any specific promotion per se. However, there's the affiliate program that lets you earn $800 by earning Plus500 any amount of deposit.
And if you go for the Australian branch of Plus500, then you can get a deposit bonus, and quite a significant one at that! The minimum bonus amount is AU$80, whereas the maximum tops up to AU$15,000.
Is Plus500 a scam?
No, it definitely is not! First and foremost, Plus500 features six different licenses from some of the most trustworthy regulators on the planet. These include:
FCA from the UK
ASIC from Australia
CySEC from Cyprus
FSCA from South Africa
FMA from New Zealand
MAS from Singapore
Besides, Plus500 also features complex money protection mechanisms on its platform. For instance, negative balance protection makes sure that you never go to the negative balance where you need to pay up for losses. There are also account segregation, fund insurance, and many other mechanisms.
Are there any Plus500 commissions?
Yes, there are certain commissions you have to pay when trading with Plus500. However, if we compare the broker's fees to other brokers, the difference is pretty obvious: lots of commissions are straight-up removed from the platform.
The main source of financial income for Plus500 is the bid/ask spreads. And, to be fair, these are some of the lowest we found on the market, starting off from 0.7 pips for the EUR/USD pair. Plus, there are no deposit/withdrawal fees for your transactions.
Which accounts can you get at Plus500?
By signing up at Plus500, you can get one retail account with a minimum of $100 deposit. Regardless of the limitation in live accounts, Plus500's standard account offers some of the best trading terms and conditions, including 1:300 leverage, variable tight spreads, and many more.
Plus, there's also a demo account that has a $40,000 virtual account and no discernable limitations to your virtual trades.
*76.4% of retail investor accounts lose money when trading CFDs with this provider. You should consider whether you can afford to take the high risk of losing your money.