Binomo is one of the relatively new binary options brokers. Does it deserve your precious time and money? In this Binomo review, we will explain clearly if you should deal with this broker!
Binomo Review: About the Company
Binomo brokerage firm is transparent about its trading activity, experience, the current number of customers and legal information. Is Binomo legit? We do not think so. There are many traders that informed us that this broker is a scam. We recon that yes. We did not have to search for company info on our own, as the website did provide us with sufficient data. Binomo is located in Anguilla and was established in 2014. At the moment of the Binomo review, they had pending CySEC and CFO regulation.Probably they will not get it if they continue to offer low-quality services.
Probably they will not get those licences if they continue to offer low-quality services.
Binomo Registration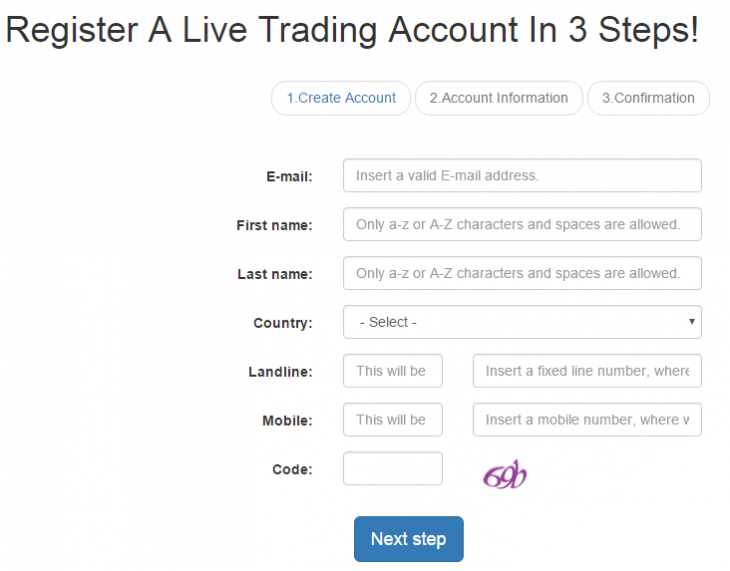 Registration is very fast and done within a minute. This is pretty awesome since you will not have to spend a lot of time on filling boring registration forms.
Registration is laggy and sometimes you have to retry several times.
At the stage of registration, you have to choose between a real and a demo account. The minimum investment requirement for the live account is $10 or the equivalent in EUR or RUB.
There are three live accounts to select: Standard, Gold, and VIP. The minimum deposit for Gold and VIP accounts are $500 and $1000 respectively. Once you open the real trading account, the Binomo bonus will be offered upon making the first deposit.
Update: No more bonus offers are available.
Binomo Trading Conditions Review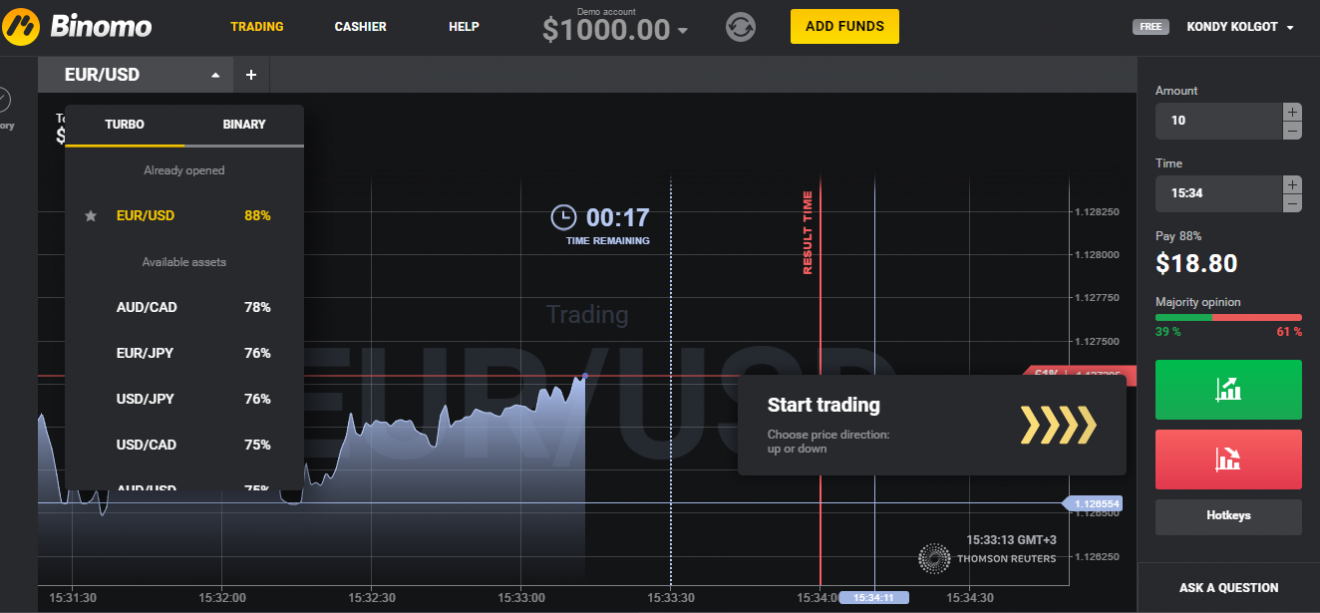 Live trading takes place on Binomo WebTrader. The Binomo binary options platform offers you solid choice of trading instruments. Binomo allows trading on 15 currency pairs and Gold. Also, the platform supports technical indicators and different charting tools. There are two main binary modes available: classic binary options and Turbo options.
When working on this Binomo opinion, we have noticed that the WebTrader does not have any technical issues. The performance is seamless; there are no lags and connection problems. A Recent check of the Binomo platform showed us that platform has some technical issues and order execution does not work properly. Sometimes it takes 15 seconds to execute an order, and sometimes it is not executed at all.
Binomo Trading Education
Binomo binary broker is one of the brokers that cares about your binary options trading education. There is an investment glossary that will definitely help you to start out. We always recommend to start only with brokers that care about your knowledge and education, but Binomo education is simply not worth it. All the info and strategies are outdated and irrelevant for current market conditions!
Good Customer Support
Client support is one of the main advantages that Binomo has right now. The support agents can assist you on any issue, from very basic one to a complex problem. We have also read different Binomo reviews that agree on our opinion about Binomo customer support.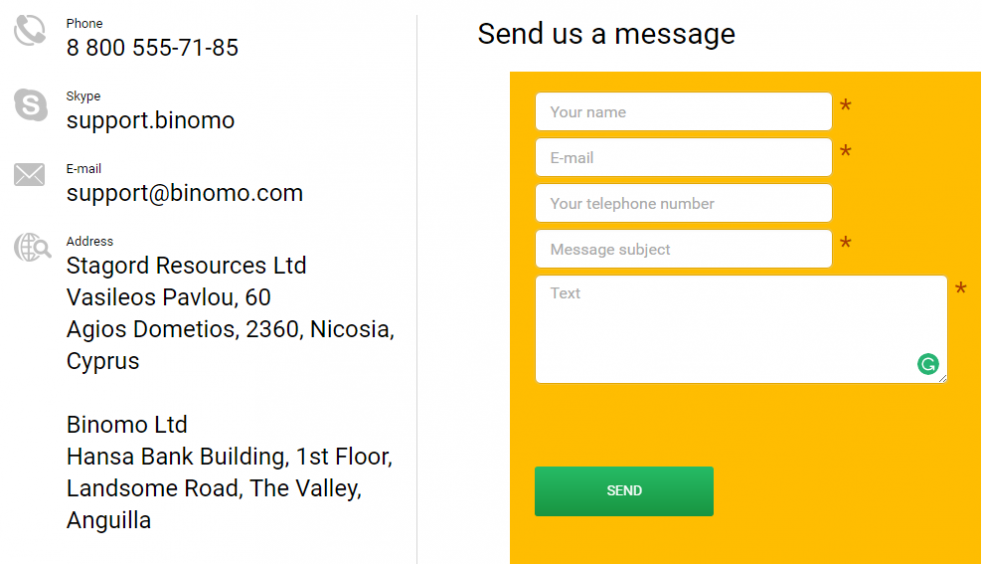 As for the indirect customer support, Binomo offers FAQ which can help to evaluate the quality of services.
Seems like Binomo has changed its customer support center. Support is unhelpful and sometimes even rude.
Binomo Funds Withdrawal
Binomo transfer methods are convenient for many traders, you can deposit or withdraw funds using credit/debit card and e-wallets. Unfortunately, bank transfers are not allowed at the moment, but we hope that they will be in the future.
Withdrawals are often rejected for no reason. We do think Binomo is a scam and do not recommend to sign up with it.