Forex.com FX broker is a global Forex and CFDs broker that was established almost 20 years ago, in 2001. Forex.com is brand the name of a company called GAIN Capital, this company is listed on the New York Stock Exchange. There are several regulatory bodies that license Forex.com, including those like the Financial Conduct Authority in the UK, and the US Commodity Futures Trading Commission, CFTC.
This Forex broker is considered to be one of the safest companies on the market and has a very successful history, spanning for almost two decades. Because of the safety and security that Forex.com offers to traders in many different jurisdictions around the world, it has a lot of customers and has a very good reputation.
In this review, we are going to talk about everything that might be interesting for Forex traders looking forward to starting trading with Forex.com, so if you are one of those people, follow our tips and start trading with this amazing FX broker today!

What is Forex.com and what makes it so popular?
Forex.com represents one of the largest online retail Forex and CFDs brokers, not he market.  It gives traders access to over 180 global markets, which includes Forex currency pairs, stocks, indices, cryptocurrencies, commodities, and others. Over the years, the company was able to get the reputation as one of the best Forex brokers on the market. They are regulated in many jurisdictions around the world, including the UK, the US, and Canada. Over the years, it has managed to receive a number of awards, which made it even more popular than it was.
It offers a range of tradable instruments, low account minimums, and trading platforms that stand out on the market a lot. This FX broker is considered to be an excellent choice for brokers around the world. No matter you are someone who has been trading Forex for a long time or a beginner, you will find something that you enjoy at this amazing Forex broker.
While working on this review, we found that Forex.com FX broker is one of the most advanced and developed Forex brokers on the market, offering competitive services to their clients. The safety that it offers to their clients is something that should be noted, as it is considered to be one of the safest ones out their thanks to the licenses from some of the top-tier regulatory agencies. Over the years, there have been little to no complaints against the broker, however, there have been some minor fines that the company had to pay. One of them was due to a technical issue, for which the broker paid $50,000.
The regulatory framework of Forex.com
As we have said previously, Forex.com is authorized by a number of regulatory bodies on the market, which includes some of the best-known regulatory agencies on the market.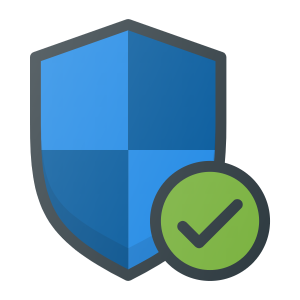 Forex.com is owned and operated by a company called Gain Capital UK, which is registered in the UK with registration number 1761813. Headquarters of the company is in London, because of which, it is controlled by the UK's Financial Conduct Authority, FCA, which is considered to be one of the top-tier Forex regulatory agencies for this company. Also, there are many other regulatory bodies that take care of the safety of Forex.com client's safety, which means that you can very freely and easily trust the company with your funds.
Because of the fact that the company is also regulated in the United States, it has to have a very high operating capital. Also, they keep the funds of their clients segregated, which means that your money can stay safe in case of any inconvenience. For example, if something goes wrong and the company goes bankrupt, you will be able to freely withdraw your funds from your segregated account, without the broker having any access to it.
Why are regulations important?
Regulations are something that makes sure that you can stay as safe as possible. There are many skeptics who are saying that regulations are not worth it and they are dangerous for the future development of the field, but they can not be more wrong. In the world of Forex trading, a proper regulatory framework is a key to success.
As the internet developed and Forex trading became a very active part of it, the jurisdictions around the world had to come up with ideas to keep their clients safe. One of the things that they did was to establish regulatory agencies, that are in charge of controlling Forex brokers around the world and control the job that they are doing.
With the help of regulations, you can make sure that you will not become part of one of those horror stories that we have all heard about. Forex.com is one of the companies that strictly follows regulatory frameworks to keep their clients as safe as possible. The number of people trusting this Forex broker is rising every day and not for the wrong reason, as of today, it is said to be one of the best ones when it comes to keeping their clients safe.
Available trading instruments on Forex.com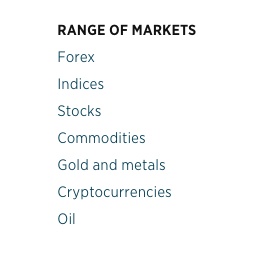 Trading instruments are the things that you use for trading. There are over 180 of them available at Forex.com FX broker and the number of them is rising every day. With this, the Forex.com team makes sure that no matter what you are looking for, you can find it at this trading company. Generally, with Forex.com, you can trade everything from currencies to crypto, to stocks, and many others. Below, we will talk about each of them in more detail.
Currency trading
Forex trading is the most traded market around the world and stands to be an industry leader. This Forex broker tries to meet the needs of their clients as much as they can and one of the things that it does is that it offers traders access to more than 80 currency pairs. Generally, the spreads vary based on market conditions, like volatility, liquidity, and many other factors.
Forex can be traded with Forex.com FX broker for 24 hours a day, five days a week. Currency trading is the most popular way of trading around the world. The currency pairs that you can trade can be divided into different groups, the most traded currencies are so-called Major Currency Pairs. These are the ones that include USD and one other major currency, like CAD, GBP, and others.
Cross pairs are the one that does not involve USD, the examples of such currency pairs are GBP/JPY, EUR/GBP, etc. Also, there is another one available, which is called exotic currency pairs, which are a little harder to trade. However, if you do your research you will be able to master trading with these currencies as well.
Currency trading at Forex.com is very popular, and traders can trade them with a maximum leverage of 1:40, and also with high volatility.
Commodities
The commodity market is the one that trades in the primary economic sector rather than manufactured products. These include the like cocoa, fruit, sugar, etc. There are also hard commodities, for example, gold and oil. At Forex.com, you can trade metals, energies, and in addition, you can trade softs as CFDs. There are 12 commodity CFDs available on Forex.com, and the maximum leverage for this is 1:16.67.
The spreads and execution are very competitive, which makes Forex.com one of the most popular places for commodities trading. Commissions are also very low, the broker gives you the ability to trade commodities with no commissions and enjoy margins from as little as one percent.
Indices
While index trading, investors trade a group of stocks that make up the index. The index is the measurements of the value of a specific section of the stock market, it is very popular on the market and you can very actively trade it with Forex.com. There are the top stock portfolios you can find available on Forex.com, and you can trade 15 different indices with the broker. The leverage is up to 1:33.33, and you have the chance to accept trading markets from around the world.
You can trade indices like UK 100 and Germany 30 from just 1 pt, there are also fixed spreads that are as low as 1 pt during market hours. With Forex.com, you have the ability to increase your exposure to the world's top financial markets, improve your trading potential, and trade on volatility generated from corporate news and world events.
Available trading account types on Forex.com
Forex.com offers traders two different types of trading accounts, one is Standard Trading account and another one is called Active Trading Account. The broker also has a demo account, this account is very popular around the world and is used very actively by Forex brokers around the world.

Demo Account
Demo Accounts are something that can be very beneficial for many FX traders. No matter you are a beginner or someone who has been trading for a long time, you can still benefit from this account type a lot. Demo accounts are a way for many Forex traders to access the trading market without having to risk their own real-life funds.
While using this account, you will be able to use the platform at its fullest. Many people use it as a way to check out everything about the broker from a closer view and it is always something recommended to try. Also, if you are a beginner, you will be able to learn how to trade better with demo accounts.
However, this does not mean that these types of FX brokers are created only for beginners. In reality, it can be very actively used by experienced Forex traders as well to come up with new and different trading tactics, test the strategies that they already have, and learn more about trading in general.
Standard Trading Account
Standard Account is a perfect choice for those who are looking for a traditional Forex trading experience. The standard account offers traders very competitive spreads with no commissions at all, also, it offers traders clear and transparent pricing and superior trade executions, opportunity to reduce costs by as much as 16 percent with cash rebates, and some of the best trading platforms.
So, if you are someone looking for a traditional way of trading, this account will be perfect for you. The users of the standard account have to make an initial deposit to start the account of $50.
Active Trading Account
Generally, this one is something that more experienced would enjoy using. This account type was designed for high-volume currency traders, who will enjoy the exceptional trading experience created especially for them. The trading costs are reduced by as much as 18 percent thanks to the cash rebates, also, there is up t0 1,5 percent APY interest on the average daily available margin. Traders who decide to use this account will also have access to one-on-one support from very-well experienced market strategists, which can be very helpful for successful Forex trading.
To become eligible for the Active Trader account you will have to open an account with a minimum deposit of $10,000, or you can also trade $25 million of volume in a calendar month. For those who enjoy trading with huge amounts of money, this is a really nice offering and can be enjoyed at any time.
However, we would recommend using this account only if you know what you are doing and you are ready to take the risk. For those who are new to the market, we would recommend sticking with the regular account type which is a lot easier to control. Generally, the more knowledge you have about Forex trading, the easier it will be for you to trade with the Active Trading Account.
How much does trading cost at Forex.com?
It is very important to understand everything that you will have to pay while trading Forex with Forex.com FX broker.
In most cases, it is recommended to use the Forex broker that costs as little as possible for Forex traders. These costs can be broken down into different categories, such as spreads and commissions, overnight financing charges, or swap rates. For day traders, swap rates are not really important, but spreads and commissions are equally important for everyone.
During the most active trading hours, Forex.com charges a floating spread of 1.7 pips on different currency pairs, such as EUR/SUD, or USD/JPY. For GBP/USD, however, the pips in most cases end up being 2.1 pips.
In most cases, Forex.com does not charge commissions. For spreads, it is a lot lower for those who use Active Trader Account, with the spread for EUR/SUD sometimes being as little as 0.4 pips. This is very important and competitive in today's market, where the spreads sometimes get very high.
Educational opportunities at Forex.com Forex broker
Education and the knowledge that you have can come in very handy while trading Forex. It is very important to understand everything behind the market to be a successful Forex trader. So, be sure to use every opportunity that you have in this regard. Forex.com actually offers a lot of different opportunities that can be very much enjoyed.
The learning center of the broker is very competitive and it offers a number of different materials. Learn to Trade Forex is one of the courses that allow traders to study at their own pace, it consists of seven lessons covering everything that might be important for a beginner trader, including pips, technical analysis and tools, charting, margin, and many others. With this, you can also use a demo account with $50,000 of virtual funds to apply everything that you learn into practice.
There are also a series of videos for beginners that will help them understand everything about the broker and FX trading in general. You can also access webinars, with a requirement of pre-registration. There are many other opportunities available for traders who wish to learn more and we would recommend checking out the website of Forex.com broker right now for more information.

How does the website of the broker work?
The website of Forex.com is very easy to use and get around. In addition, it is full of information and is super user-friendly. You can find any type of information that might be important for a trader very easily, in just a few easy and simple steps. The information about the broker is spread out on different pages that gives everyone the ability to find any type of information that they might be looking for without much time or dedication.
What are the trading platforms at Forex.com?
There are many different trading platforms available on the platform, all of them being good in their own way. Trading platforms are very important for every Forex broker since they offer traders access to the trading market. If you use the right platform for you, it will change the whole experience, and the fact that this broker offers a number of them shows how much they care about their trader's needs. Below, we will discuss these platforms one-by-one.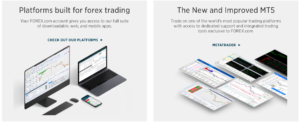 Advanced Trading Platform
This very powerful and popular trading platform will meet the needs of most of the Forex traders. A great thing that attracts a lot of trades to it is that it has a very simple and elegant interface that can be easily used.
Forex.com offers Direct Market Access, DMA, which makes it the only Forex broker in the United States offering this. Also, traders can create their own custom indicators with the help of it, which is very actively used by many.
Web Trader
Web Trader is a perfect way to go for those who are looking for a quick and easy platform. It can be sued on most of the browsers and also saves any memory draining download. In addition, with this, you will get advanced charting, a long list of trading tools, and over 70 technical indicators that can be very useful for anyone trading Forex.
You will also be able to access a very useful economy calendar, and in addition, you can also create all the trailing stops and stop-losses you might need.
MetaTrader
MetaTrader is probably the name that you have already heard of this trading platform has a very long history, it was released in 2005 by a Russian company called MetaQuotes and for over 15 years, it was able to become one of the most popular trading platforms around the world.
Over the years, it was able to dominate the world of Forex trading. Its first version, MetaTrader 4 has a huge following which means that no matter what type of information you are looking for, you will be easily able to find it online.
MT4 has anew version, MetaTrader 5, however, MT4 stands to still be a more popular one. The broker also offers MetaTrader Web and MetaTrader Mobile, which are very much popular on the market.
Available payment methods at Forex.com broker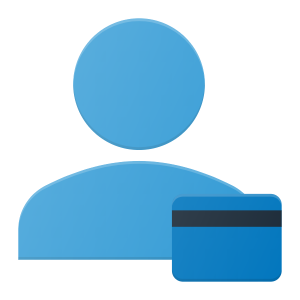 For a successful Forex trading, it is very important to find a perfect payment method. In the case of Forex.com, there are many that you can choose from. For the UK, you can use PayPal, Debit/Credit cards, Bank Transfers, etc. For those form USA,  the traders are able to trade with Debit cards, Electronic Bank Transfer Wire, checks, eChecks, and wire transfers. There are many other payment methods available at Forex.com, and it is worth checking out.
Depositing money to your trading account at Forex.com is very easy, however, the minimum one that you can deposit is $30 and the maximum transaction is $10,000.
Customer service
The Customer Support team of Forex.com is one of the best ones on the market. All you need to do is simply head over their website where you can use the live chat to access the customer support team. It is available on your trading platforms and also with your mobile app. You can also call them or use email, we went through different feedback from users and we found out that they are very helpful in most of the situations.
The customer support team of Forex.com is available any time of the day, in several languages, including English, Spanish, German, Polish, Arabic, and many others.
Should you trade with the Forex.com FX broker?
After doing very hard research, we are able to say that that Forex.com is one of the best Forex brokers on the market today. There are a lot of things that can be enjoyed while trading with this Forex broker and most importantly, it does its best to ensure that every single one of their client stays as safe as possible.
Even though there are some things that some traders might not like, for example, the lack of bonuses and promotions, the broker still offers the services that will be very rewarding for those who are looking for a high-class Forex trading experience. So, if you are from one of those countries where the services of this broker are available, we recommend starting trading with Forex.com today!