It's not always straightforward or easy to find a decent Forex trading brokerage. While there are certainly trustworthy service providers in this market, you should look out for scam brokers regardless.
But what's the distinction between the two? These days, it's so incredibly easy to fake a trading platform and mask it with fancy trading terms and conditions. Scammers have 'perfected' their technique over the years, yet it doesn't mean we're behind our game.
Our team at ForexBrokersList.org is constantly updating the methodology using which the brokers are rated. We review regulatory materials available on the platform and fund safety measures that come with them, as well as test out the broker's trading features to check if they're legit.
In the following review of AccuIndex Forex broker, we're going to do exactly that. Make sure to read this page until the end to find out whether it's worth trading with this broker or not.
Can AccuIndex be trusted? – Regulatory overview
As we embark on our mission to determine the credibility of this broker, we first want to check AccuIndex's regulatory materials available on the website. It will give us a clear idea as to how safe it is to entrust your funds to this FX broker.
As the website claims, AccuIndex boasts a pretty solid regulatory framework. The broker has a financial license from the two regulatory bodies:
Cyprus Securities and Exchange Commission (CySEC)
Financial Services Commission (FSC) of Mauritius
Now, the bare fact that AccuIndex is regulated by the CySEC is supposed to be beneficial to the broker's reputation. It's one of the most popular and trustworthy Tier-1 regulators in Forex, and it certainly radiates credibility.

However, we're not so sure about the legitimacy of this claim. Here's the deal: as our experts have discovered during this AccuIndex review,  the maximum leverage you can get with this broker is 1:400. And, if you know anything about Forex regulations and restrictions in the EU, it's that the maximum leverage cap for the EU-based broker is fixed at 1:30. A broker cannot evade this requirement whatsoever, and the fact that AccuIndex does exactly that means one of two things:
The broker is lying about its maximum leverage rates
The broker is lying about its license
Either way, AccuIndex is already lying to its clients, which is definitely not acceptable in Forex!
So, this leaves us with the Financial Services Commission of Mauritius, which seems to be a legit regulatory material at AccuIndex. Yet by 'legit', we mean the existing one, whereby its credibility can be doubted: Mauritius is a relatively weak third-world country with pretty much non-existing economic or political prowess. This means that the FSC license doesn't really ensure the highest financial standards at AccuIndex.
In short, this regulatory overview clearly shows that the AccuIndex' scam suspicions may in fact be real. And even if they aren't, we still wouldn't recommend a broker that so blatantly lies about its trading terms and conditions.
What are the trading features at AccuIndex?
Speaking of trading terms and conditions, let's move on to various trading features that are available at AccuIndex. After all, this is what people are most interested in.
As we have found out, choosing AccuIndex as your main service provider will bring along almost a hundred different financial instruments. These instruments fall into the following categories:
Currency pairs
Index CFDs
Bullion CFDs
Commodities
Exchange-Traded Funds
While we weren't really impressed by the exact number of instruments available on the platform, we should still give AccuIndex some credit: the broker still allows you to diversify your basket by investing in various different assets. But is it really enough to improve our AccuIndex opinion significantly? As it turns out, not really.
We have already noted that the maximum leverage AccuIndex is offering goes as high as 1:400, and that it goes against the CySEC regulations very blatantly. But why exactly is it dangerous in trading?
Well, the key feature of leverage is its multiplication level: it increases your initial trading capital quite significantly. For instance, the leverage at 1:400 will take your 100 USD deposit to a massive 40,000 USD trading capital. And, it goes without saying that this much capital increases your prospective profits by the same rate.
However, you should always keep in mind that losses increase by the same rate as well. Therefore, if you were to lose 1 USD in your trade, 1:400 leverage would cost you 400 USD. Yet AccuIndex doesn't seem to mind this danger of leverage, which further increases our AccuIndex fraud suspicions.
How does the website look?
Finally, let's talk about some cosmetics and software touches at AccuIndex. Alongside trading safety and profitability, it's also important for a broker to appeal to its clients visually.
As we delved deeper into the website, we got the impression that the design of choice is more or less decent; at least, it doesn't clutter the user experience with unnecessary visual effects and heavy imagery. However, it's still not the remarkably simple or stunning website we'd like it to be.
The informative side of the website is deceptively good: AccuIndex provides information about all sorts of different trading terms and conditions, as well as safety features. However, as we have already found this out, some of these pieces of information are, to put it lightly, false – leverage and regulation claims included.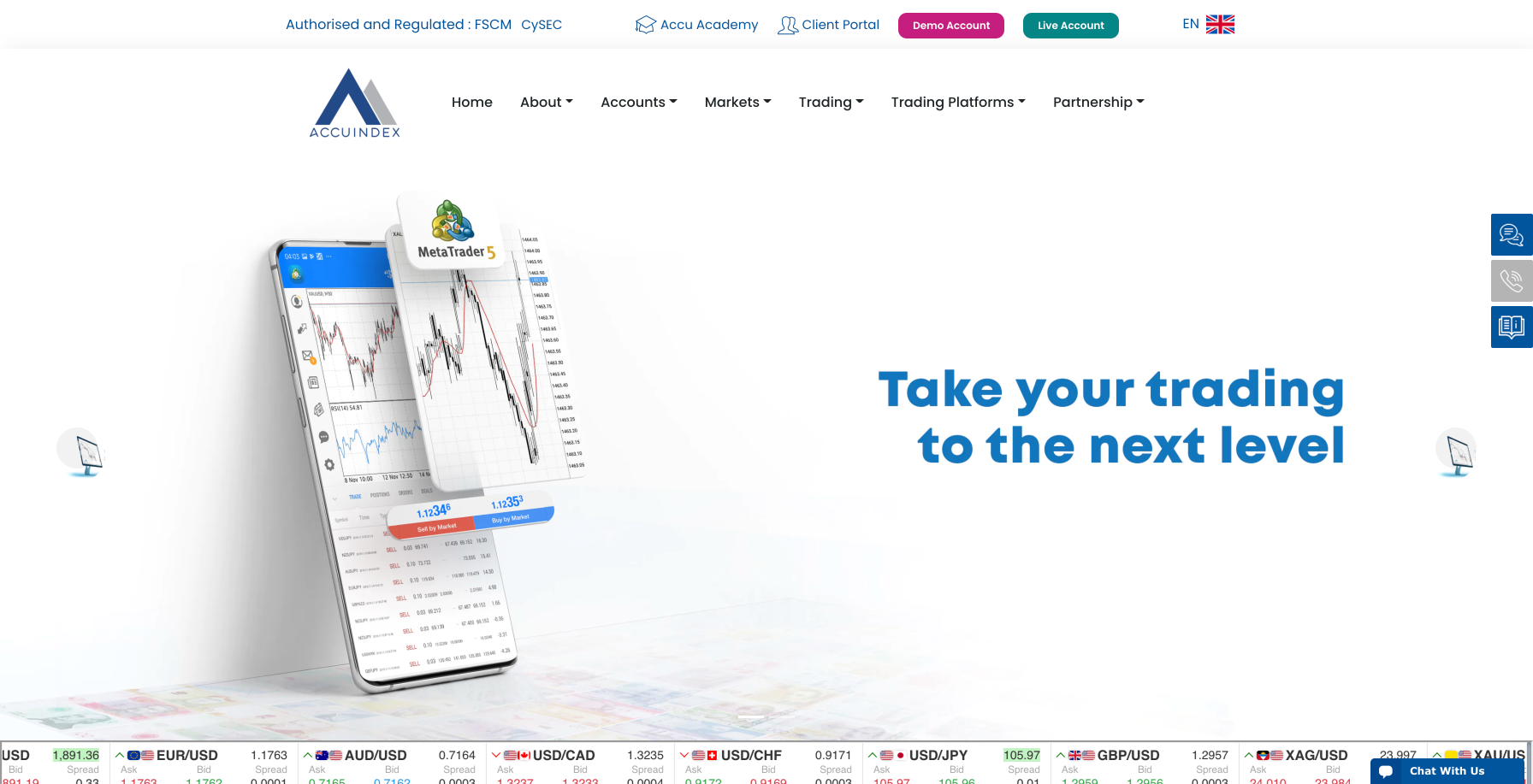 Next up, let's take a look at available trading accounts found during our review of AccuIndex Forex broker and how they target different types of traders. Generally, three retail accounts on a platform are considered very good for a Forex broker; they target beginners, as well as regular and elite Forex traders very easily.
However, we have only found two main accounts at AccuIndex, and only one of them acts as a supplement for the three retail accounts. Here they are:
Standard – 250 USD minimum deposit
ECN – 5,000 USD minimum deposit
Only the Standard account can be the choice for retail traders at AccuIndex: it has regular execution modes and doesn't eat into a large chunk of your deposits/earnings. When it comes to the ECN account, though, only the most experienced traders can make use of this platform. Therefore, the account base at AccuIndex is extremely limited, which is also not an appealing side of the broker.
Finally, we also went ahead and examined trading platforms available on AccuIndex's website. As we have found, the broker features MetaTrader 5 on its website, which is pretty decent. The AccuIndex MT5 is a comprehensive trading platform that features tons of beneficial trading features, as well as ensures seamless trading experience for users.
However, does it really make it up for the lack of honesty from the broker's part? No, it doesn't. Therefore, we're still convinced that trading with AccuIndex is not the wisest decision in Forex.
Should you trust AccuIndex?
All in all, do we have enough evidence to make the final conclusion about AccuIndex? Yes, we do! And is it worth trading with this broker? No, it's not.
As we have found out, AccuIndex lies about its regulatory measures. While it claims to be regulated by the Cyprus Securities and Exchange Commission, the only regulator we're left with is the Financial Services Commission from Mauritius, which isn't the most powerful guarantor of your financial safety.
Our AccuIndex review also made us realize that the broker's trading terms and conditions are either too dangerous or too underwhelming. Leverage, for instance, goes all the way up to 1:400, which is more than 10 times higher than what the regulator demands.
As for the website and software experience, both can be considered more or less decent, yet they aren't enough to change our position about AccuIndex's safety and trustworthiness.
In conclusion, we cannot possibly recommend you to do business with AccuIndex. It's way too suspicious to entrust with your hard-earned money.