Enclave FX Broker is an online financial platform established back in 2018. The company claims to be having a high-quality service including the best prices and low spreads in the competition. According to their main website, the team of highly qualified and experienced people gives you the best solution to online trading and technology with low-cost spreads. All of these sound pretty exciting and impressive, so we decided to re-check the facts and find out if this platform is actually worth your time, money, and attention.
The first thing we are looking for when dealing with an online Forex broker is whether if it is licensed or not, as trustworthiness is very important when you trust a specific platform with your financial assets. Unfortunately, we were not able to find any valuable information about the license – the majority of reputable brokers provide such information on their main webpage so you know that trusting them does not involve any risks. The fact that Enclave FX does not mention anything about any regulatory body leads us to believe that the company is unregulated and trusting it with your money might not be the best idea.
Enclave FX Brokerage offers leverage up to 1:500 and spread on EUR/USD start from 1.4 pips. The platform seems to be using a MetaTrader 5 which is a powerful tool offered by the most popular Forex brokers available on the internet. Traders using MT5 can easily take advantage of fast execution speed, access fully customizable charts, and have an exceptional trading experience in general. The website does not provide any information about bonuses or other promotional offers which is a sign that they do not have any. The minimum deposit amount is set to $10 and can differ depending on which type of account you decide to use.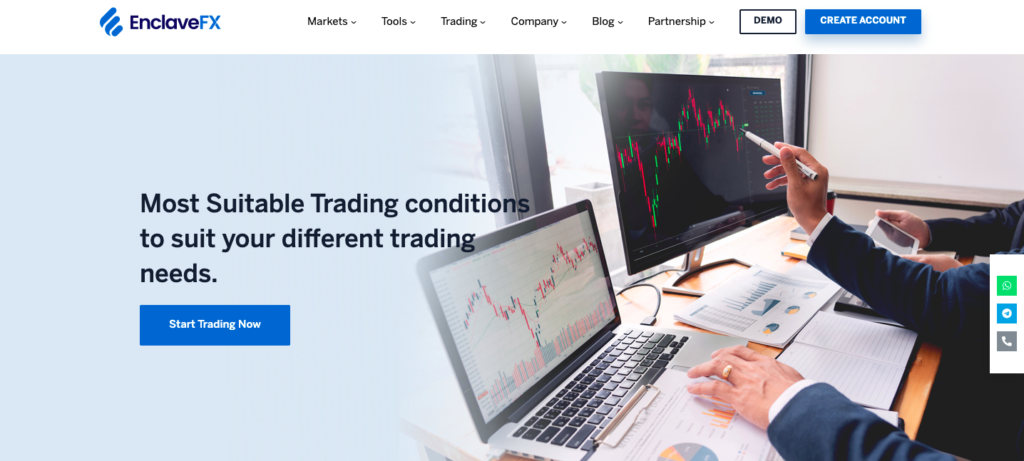 Traders wanting to sign up for this website, have the possibility to choose from 4 different types of accounts, including Micro, Standard, ECN, and ECN Pro. Each of them comes with its own specifications and requirements, and we will discuss them later in this review. With these accounts, it is possible to trade Forex, CFD, Metals, and Cryptocurrencies. The presence of cryptos is actually pretty nice, as they are becoming extremely popular with traders nowadays.
Another good indicator of quality can be a customer support service. With Enclave FX Broker, you can either use an online form, email, phone number, or live chat option. When we tried to test the live chat, it asked for some personal information including name, phone number, and email address, which was quite odd. Generally, there are a lot of ways for you to get in touch with the company and get your issues resolved sooner or later.
Is Enclave FX Legit?
No, we do not think so. As we already mentioned, the site does not store anything valuable about regulations – the only thing we were able to find was the company's advice on how to know if Forex brokerage is trustworthy. The funny thing is that in this article they mention that one of the most important indicators while choosing a specific broker is their license and regulation. They, themselves, do not give their customers the ability to find out whether they are regulated or not which is already a red flag.
Being unregulated means that it is not safe to deposit your money with a broker because if something inconvenient happens (e.g your money is stolen, the company goes bankrupt), there will not be a financial regulatory body that will take all the necessary actions to protect you as a customer. In fact, you will be the one who suffers from negative consequences. We advise you to always choose platforms that hold a decent license and are fully regulated by reputable authorities. There are a lot of regulated brokers available on the internet nowadays, and you might as well consider checking them out.
Enclave FX Review – Trading Features
Besides the license, there are a lot of other things that one should keep in mind before depositing on a financial platform. Forex brokers offer customers different trading features that can easily influence their decision-making process, including leverage, spreads, account types, minimum deposits, etc. Let's take a look at each of them in more detail, so you will not feel like you are missing out on something.
Leverage
As we already mentioned earlier in this Enclave FX Review, the leverage can go up to 1:500, which is above the industry's average. High leverages are mostly preferred by experienced traders that wish to see big profits from their investments in a short amount of time and love taking risks. As for beginners, this leverage includes high risks of losing all your funds. It can even leave you in debt, so we advise you to take that into consideration before you start trading. Some financial regulatory bodies even restrict brokers from using high ratios in order to reduce the risks of losing high amounts of money.
Spreads
The spreads start from 1.4 pips and can go up to 2.0 as well – depending on which type of account you use. According to the website, the spreads for ECN and ECN Pro accounts start from 0 pips, but the spreads for a standard account are not competitive at all and do not correlate with the industry's average. What we mean is that you can find a lot of other platforms where brokers offer better conditions for trading.
Account Types
If you decide to sign up for Enclave FX Broker, you can choose from 4 different options – Micro, Standard, ECN, and ECN Pro accounts. The ones that do not wish to deposit a lot and do not have a very large bankroll can go either for Micro or Standard accounts that do not have very big minimum deposit requirements and are free from the commission. To be honest, we did not see much difference between these accounts, as they all have the same specifications except for the minimum deposit amounts and commissions. Other than that, they all have the access to the same instruments, they are all swap-free and they all have the same leverage.
Account opening is pretty easy and fast – you just have to choose an account type, submit an application and fund your account. After that, traders can access more than 180 instruments on MT5. The website also has a demo account option available, meaning that you can easily test out their services for free before risking any of your financial assets.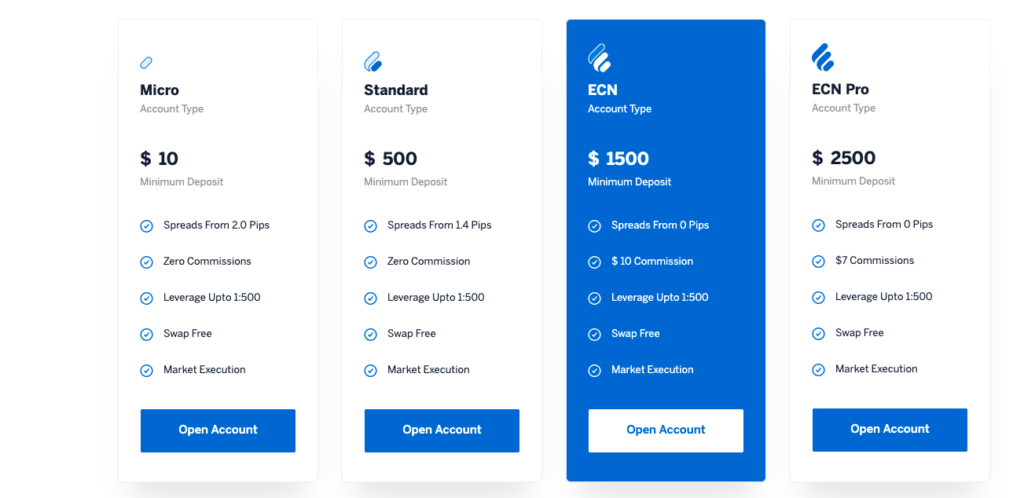 The website said that they have plenty of funding methods available, however, once we visited the deposit withdrawal section, we discovered that this is not true at all. There are 3 payment methods in total, including Bitcoin, India Cash, and Local Banks – they come with no additional fees, however, they differ by execution time – For instance, Bitcoin requires 1-3 hours, while the other 2 needs a couple of minutes.
Minimum Deposit
The minimum deposit requirement for traders is set to $10 but can go up to $2500 if you sign up for an ECN Pro account. It is important to mention that $10 is not much and perfectly correlates with the industry's standard, however, this alone is not enough for us to recommend this platform to our readers.
Bonuses
Bonuses are pretty common with unregulated brokers as they give the company the ability to attract new customers into their system. Regulated brokers are generally restricted from using promo codes due to the regulations set by financial regulatory bodies. We were quite surprised when we were not able to find any promotional offers available on Enclave FX Brokerage's website, however, this is not a bad sign – the terms and conditions bonuses come with are not usually in favor of the traders.
All in all, we can say that the trading features offered by Enclave FX do not look very attractive to us. The leverage along with spreads are high and there is not much difference between account types. The minimum deposit amount correlates with the standards and the absence of bonuses is also a good sign, however, not enough at all. A highly competitive trading market gives you space to freely choose the platform that satisfies all your needs – that's why we recommend you to check other platforms and find the one that suits your interests best.
Enclave FX – Final Verdict
Finally, we could say that this financial platform actually has some potential but not having a license is something that is a major red flag. With a decent license, it may go to places – additionally, some trading features can also use improvements. For instance, they can offer lower leverage to traders who are just beginning their trading journey. Lower spreads would also attract more customers. Adding some additional ways to fund the account is also a good idea. From what we've seen, it is pretty clear that Enclave FX Broker is not competitive enough and the internet has a lot of other brokers that have much more to offer.
FAQ on Enclave FX
[su_spoiler title="Is Enclave FX Legit?" class="faq-spoiler"]
No, Enclave FX is not a legit Forex broker as we were not able to find any information about licenses on their main website. Dealing with unregulated brokers involves high risks of losing money and if something inconvenient happens, you will not be able to do anything in terms of legal actions. That's why we advise you to always go for platforms that are fully licensed and regulated so you do not have to worry about money or privacy issues while trading.
[/su_spoiler]
[su_spoiler title="What products can I trade on Enclave FX?" class="faq-spoiler"]
If you decide to start trading on Enclave FX, you will have the possibility to trade Forex, CFD, Crypto, and Metal. Trading with Forex will give you the best prices in the market – you can trade with swap-free options and multiple currency pairs. CFD Trading also offers powerful financial instruments that allow you to trade assets in the global market without owning them. The presence of cryptocurrencies in their trading products is very good, as they are getting more and more popular with traders day by day.
[/su_spoiler]
[su_spoiler title="What is the minimum deposit for Enclave FX?" class="faq-spoiler"]
The minimum deposit amounts differ and depend on which type of account you decide to use. For micro accounts, this requirement is set to $10, however, it can go up to 500, 1500, and 2500 USD for Standard, ECN, and ECN Pro accounts. We need to mention that this amount is pretty competitive and correlates with the industry's standards.
[/su_spoiler]