When it comes to online trading, there are decent brokerages, then there are good brokerages, and then there are the brokers that are, in every sense, exemplary to other brokers.
XM is undoubtedly a definition of such a brokerage. Established in 2009, this broker has garnered quite a lot of fame and acclaim, being named the Best FX Broker for Europe 2020 among many other things.
There are, in total, 1,000+ different instruments categorized in 6 asset classes on XM's trading platform. And for these instruments, you're getting very lucrative trading terms and conditions.
To top it all off, XM features licenses from five individual regulatory jurisdictions, among which there are the UK, Cyprus, Australia, etc.
In this review of XM Forex broker, we will talk about everything that you need to know about this broker, making sure that you're making an informed decision when choosing it as your main trading partner.
Historical background
Before we go on with exploring the actual trading terms and conditions at XM, let's do a quick detour and find out how the company has started all off. Back in 2009, XM was founded by Constantinos Cleanthous with the name of Trading Point Group. Currently, Cleanthous doesn't participate in the governance of XM.
The main headquarters of the company is located in Limassol, Cyprus, in the following address:
12 Richard & Verengaria Street, Araouzos Castle Court, 3rd Floor, 3042 Limassol, Cyprus
Additionally, XM Global Limited is located in Belize City, Belize:
No. 5 Cork Street, Belize City, Belize, CA
When it comes to publicity, XM has no negative coverage that we were able to find on the web. Plus, the company continuously submits financial statements to the financial bodies. This introduces much higher transparency and incites trust to the clients, as well as regulators.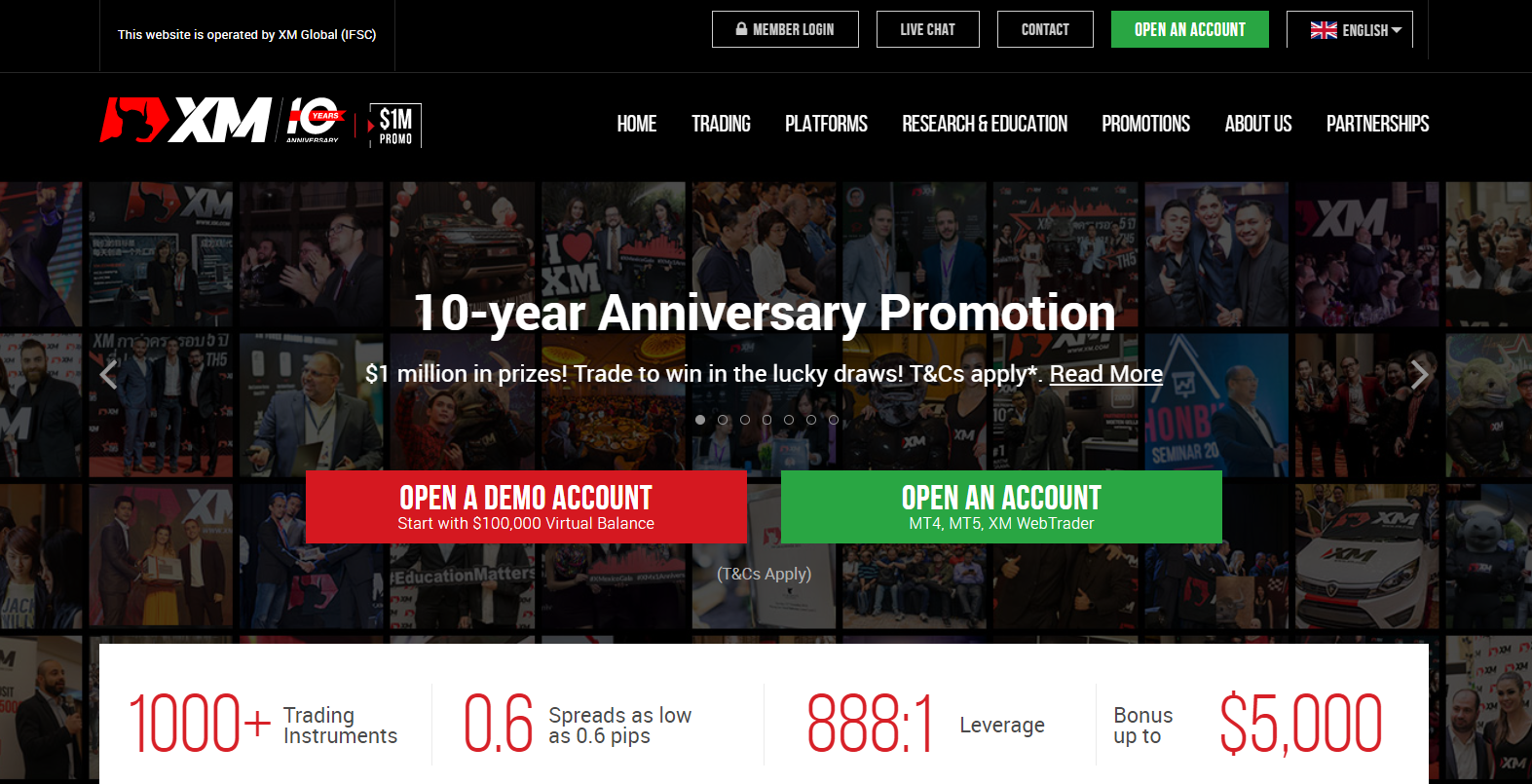 In short, our XM review shows that this is one of the most well-respected, as well as highly trustworthy brokerages, that appreciates the financial oversight its regulators have on its services.
Your money is in secure hands!
After a brief company background, let's now turn our attention to probably the most important element of any broker review: regulation. For a company that continuously deals with a huge amount of money, XM is regulated by five different regulatory institutions from five separate jurisdictions:
Financial Conduct Authority (FCA) – The UK
FCA is undoubtedly one of the most reliable regulatory materials you can find on the market right now. It is actively enforced by the United Kingdom's high-end financial rules and standards. The identification number for the registration is FRN:705428.
Cyprus Securities and Exchange Commission (CySEC)
Just like the FCA, the CySEC license is also one of the most trustworthy materials. It enforces strict financial rules that are also active in the EU. The registration number is 120/10.
International Financial Services Commission (IFSC) – Belize
The IFSC license from Belize regulates the XM's international branch under the name of XM Global Limited. The registration number for it is IFSC/60/354/TS/19.
Australian Securities and Investments Commission (ASIC)
It goes without saying that the ASIC license is one of the sturdiest regulatory materials found during this XM broker review. Under the name of Financial Instruments Pty Ltd, the broker's registration number is AFSL 443670.
Dubai Financial Services Authority (DFSA)
The final regulatory piece for XM is DFSA from Dubai. This license, with a registration number of F003484, adds additional stability and fund security to the XM's trading platform.
Now, even though the DFSA license is originated from Dubai, it doesn't automatically mean that the broker provides service to the citizens of the United Arab Emirates. The broker only operates within the confines of the city of Dubai.
How is your money protected at XM?
One of the most apparent results of these licenses is that XM features extensive money protection mechanisms. For example, with XM's negative balance protection, you can safeguard your account balance from the losses too large that they make you actually pay.
Another important offering is the Personal Data Protection scheme. Basically, when you register at XM and provide your personal, as well as financial details, the broker pledges that it won't disclose your private credentials to any entity for commercial purposes. However, financial regulators are still entitled to gather your data, if it's something that they demand.
Finally, there's the money insurance policy found during our XM Forex broker review. This scheme works differently for different jurisdictions. More precisely:
The UK – £85,000
Cyprus – €20,000
Dubai – £50,000
What this means is that should you have any kind of dispute with XM, you'll be refunded the above-mentioned amount of money in case if you're proved right.
The financial markets to trade at XM
The next important section to discuss here is the financial markets that are available at XM. In total, there are over one thousand different instruments that span across six trading markets:
Forex pairs
Commodities
Precious metals
Energies
Stocks and shares
Equity indices
As shown in this list, there is a huge selection of assets that you can include in your portfolio and make it much more stable.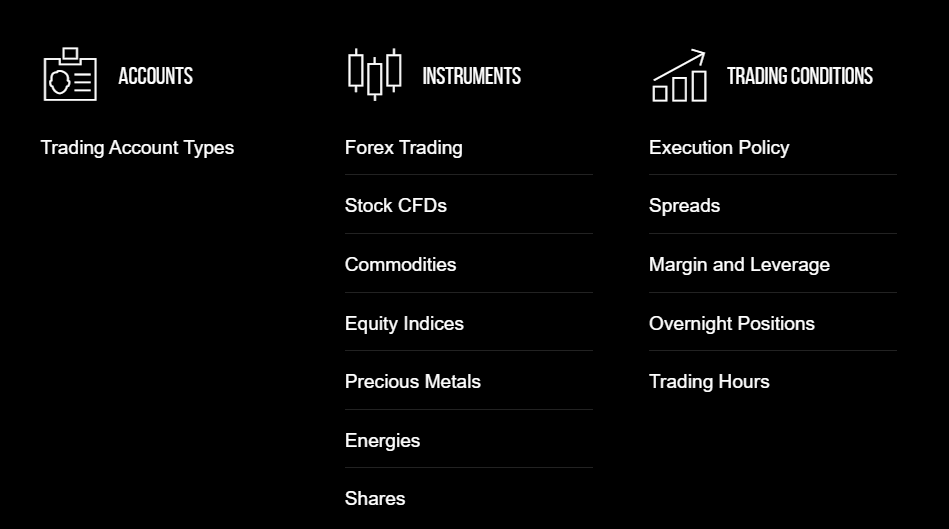 Currencies
XM is primarily a Forex trading brokerage, which is why currency pairs are the main tradable assets. There are, in total, 57 pairs that include all types, be it majors, minors, or exotic assets. And this list includes all of the most popular currencies, such as USD, EUR, JPY, CAD, GBP, and AUD. The maximum leverage for these assets goes as high as 1:888, which is more than impressive.
Commodities
Even though commodities are certainly not the main specialty of this broker, our review of XM Forex broker still shows that there are 8 different resources that you can trade. These commodities include US Cocoa, US Coffee, US Cotton No. 2, and many more.
Precious metals
Just like commodities, precious metals are also limited at XM, which is pretty understandable, given that they're limited in nature in the first place. You can trade Gold and Silver at XM with the same 1:888 leverage and average spreads of 0.35 or 0.035 pips.
Energies
Next up, let's take a look at the energies available at XM. In total, you can trade 5 different resources on this platform:
Brent Crude Oil
London Gas Oil
Natural Gas
WTI Oil
WTI Oil Mini
What's great about these instruments at XM that there are no hidden fees, be it overnight financing or other commissions. You're only charged bid/ask spreads that go as low as 0.035 pips.
Stocks and shares
When it comes to stock CFDs and shares, our reviewing team found way over 1,000 separate instruments at XM – 1,150 more precisely. From this selection, around 100 shares are spot assets, meaning you can directly buy and sell them on this platform. But as our XM review indicates, the majority of instruments are traded as Contracts for Difference (CFDs), which is to say you're bidding on their price movements and not actually buying them.
Equity indices
Finally, there are 18 equity indices that include US30Cash, US500Cash, EU50Cash, and many more. Once again, there are no extra fees other than spreads and these usually go as low as 2-3 pips.
How big are the commissions at XM?
Moving on, we should have a closer look at the commission levels at XM and do a thorough review of each of the trading/non-trading fee. As our team has discovered, the majority of commissions are totally removed from the platform.
You can go on trading any kind of instrument you want and be sure that you won't have to pay hidden costs. And those fees that do exist are transparently disclosed, not to mention that they're also pretty acceptable for many traders.

This section will include two sub-sections: trading and non-trading commissions. So, let's not waste any more time and go straight to the overview.
Trading fees
When it comes to the trade-related commissions, it won't be a stretch to say that XM lets you maintain the majority of your earnings by charging lower commissions. Furthermore, all account types, except for the Shares account, come with no fixed commissions whatsoever.
Currency fees
As our XM broker review indicates, in-trading fees for Forex pairs are charged through spreads. And these are some of the lowest bid/ask spreads we've seen in the entire trading industry. For example, the minimum spread for the EUR/USD currency pair goes as low as 0.00016, and even an average spread is not too far from the minimum – just 0.00017. Apart from spreads, there are no other underlying commissions for Forex instruments.
Commodity fees
In this section, we'll talk about the fees for commodities, energies, and precious metals altogether. The minimum spread for these assets goes as low as 0.0009, while the maximum can reach 15. And, once again, there are no hidden fees other than spreads.
Stocks and shares fees
Unlike all other instruments, stocks and shares at XM do have designated commissions. More precisely, shares trading has a minimum of $5 commission per transaction. Stock CFDs are still dependent on spread markups, and these go as low as 0.012.
Equity index fees
And when it comes to equity indices, there's not much different from other XM assets: you're only charged spreads that can go as low as 0.6 and as high as 18 pips, depending on which asset you choose from.
Fees on overnight trades
Yet another trade-related fee found during our XM Forex broker review is a swap. The swap is a commission you pay if you leave your trade open for a longer time than a day.
Here's how it works: when you trade, say, a currency pair that has two individual currencies, both of them come with their own interest rates. And they're very often different from one another.
Now, if you buy a currency that has a lower interest rate than the sold one, you will have to pay the swap that will be equal to the interest rate differential with some slight modifications. Conversely, if the interest rate for the bought currency is higher, the broker will actually give you the interest rate differential.
Another important fact to mention here is that the rollover trades from Wednesday through Thursday will have increased swaps – triple, more precisely. That's because the Forex market doesn't operate on weekends and swaps are counted two years after the trade, which is why XM has to account for the inactive weekends.
As our review of XM Forex broker indicates, swaps aren't just locked on Forex pairs. They are also operational for all other instruments except for CFDs, which have their own expiry dates.
Non-trading fees
After the trade-related fees, it's time to move on to non-trading commissions and see which additional fees are there to pay at XM. First things first, it's crucial to note that when you make withdrawals and deposits on the platform, you are free of commissions altogether – you get exactly as much as you transact. However, if the wire transfer is below $200, regardless of whether it's a deposit or withdrawal, the broker will charge a small commission sum.
Another fee, which is also the most insignificant one of all, is the inactivity fee. If you leave your account inactive for 90 days, i.e. place no new positions during that time, XM will start charging you $5 every month from that time onward. But it's also important to note that if your account balance reaches 0, the broker will stop imposing these commissions.
All in all, we can pretty easily say that the trading process at XM is one of the most beneficial ones you can get on the market. The commissions charged are very low and there are no hidden fees except for those that are openly disclosed.
XM bonuses that elevate the trading experience
The next section of our comprehensive XM review is the promotion section. In it, we're going to talk about all of the available bonuses that take your trading endeavor to the next level.
In total, there are three different bonuses available at XM:
50% Deposit Bonus
20% Deposit Bonus
10-Year Anniversary Promotion
The 50% and 20% Deposit Bonuses are actually part of one large promotion net. They work just like their name implies: when you make a deposit, XM gives you a bonus of a certain size:
For deposits up to $500, you can get a 50% bonus
For deposits up to $4,500, you can get a 20% bonus
The maximum amount you can get in bonuses is $5,000, which is definitely a huge reward from the broker.
Another XM promotion is the 10-Year Anniversary Promotion, which is celebrated for the broker's anniversary. XM invites both new and existing customers to participate in this bonus and get impressive rewards every month for 10 consecutive months. The maximum prize pool is $1,000,000.
The accounts to sign up for at XM
Now, if you are convinced by the above-mentioned trading terms and conditions and want to trade with XM, the next logical thing to do is create an account with this broker. And as our XM broker review indicates, there are 4 individual retail accounts, one Islamic, and one demo account available on the broker's trading platform.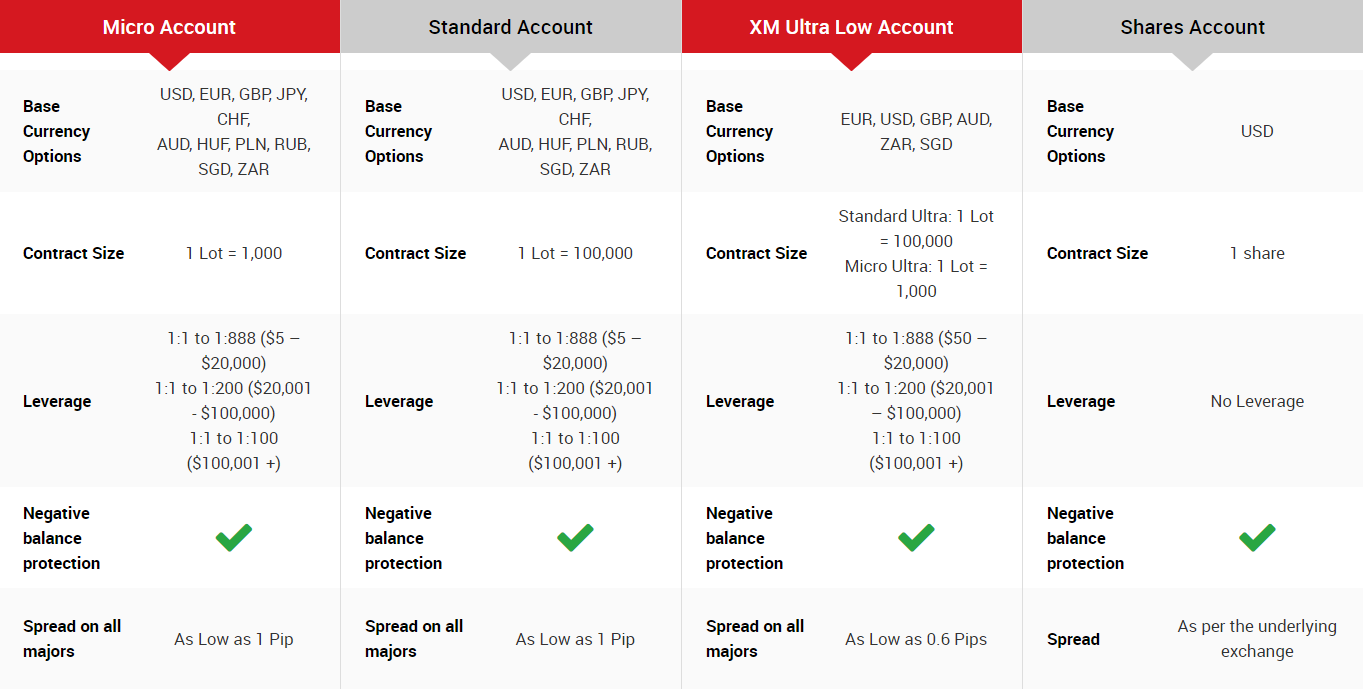 Here are these accounts listed with some of their important features:
Micro Account:
Min. Deposit: $5
Min. Spreads: Variable from 1 pip
Commission: 0%
Max. Leverage: 1:888
Tradable assets: All 6 of them
Execution Type: Market
Automated Trading: Supported
Platforms: MT4, MT5, WebTrader
Standard Account:
Min. Deposit: $5
Min. Spreads: Variable from 1 pip
Commission: 0%
Max. Leverage: 1:888
Tradable assets: All 6 of them
Execution Type: Market
Automated Trading: Supported
Platforms: MT4, MT5, WebTrader
Ultra Low Account:
Min. Deposit: $50
Min. Spreads: Variable from 0.6 pip
Commission: 0%
Max. Leverage: 1:888
Tradable assets: All 6 of them
Execution Type: Market
Automated Trading: Supported
Platforms: MT4, MT5, WebTrader
Shares Account:
Min. Deposit: $10,000
Min. Spreads: Variable from 0.6 pip
Commission: 0%
Max. Leverage: N/A
Tradable assets: Shares
Execution Type: Market
Automated Trading: Supported
Platforms: MT4, MT5, WebTrader
Islamic Account
The next account type that's slightly different from other retail accounts is the Islamic account. As shown in this XM Forex broker review, the Islamic account allows Muslim traders to evade interest rate commissions. And in order to qualify for this account, XM doesn't have any specific requirement, i.e. proof of your religion and whatnot. However, XM has the right to cancel your swap-free account should it see any kind of manipulation on your part.
One of the advantages of the XM's Islamic account is that you can have it for any live account offered on the platform. For instance, if you already have a Micro account, you can pretty much transition it to a swap-free version where virtually everything stays the same except for the overnight fees.
Demo Account
Our reviewing team has also found a demo account on XM's platform. So, if you want to trade virtually at XM and take your trading knowledge/experience to the next level, you can create a demo account for either a Micro or Standard account. And it's worth noting that the above-mentioned features for these accounts will still be available for their demo versions.
One thing to specify here is that while the regular virtual balance for the demo account is set to $100,000, you can actually get much lower or much larger account balance. More specifically:
$1,000
$3,000
$5,000
$10,000
$25,000
$50,000
$100,000
$500,000
$1,000,000
$5,000,000
As you can see, you can theoretically get a $5-million balance on your demo account, which is definitely an impressive offering.
How to open an account at XM?
During our review of XM Forex broker, not only did we examine the existing account types that you can get on this platform, but we also checked how to actually get them in the first place.
When we actually went to create a live account at XM, we were surprised just how simple and short the sign-up process was. It actually took less than 5 minutes to get the whole thing going, including having the account verified and funded.
Here, we have compiled a step-by-step guide that describes the entire registration process at XM, from the moment you press the "Open An Account" button at the top-right corner of any page:
Fill in the basic information on the first step (full name, email address, etc.)
Enter the details on the second step and agree to terms and conditions
Press the "Open Real Account" button
Download the trading platform (either MT4 or MT5)
Verify your email address
After that, you go ahead and open the chosen platform to start trading right away.
Now, even though you're not required to disclose an awful lot of information about yourself, this XM review reveals that there are still some documents and KYC credentials that you need to provide. These include information about your annual income, estimated net worth, prior experience in trading, etc.
But then again, XM needs these details to better identify its clients and make sure that they aren't engaged in money laundering or terrorist funding. Therefore, everything is done for your protection.
Which countries are supported?
When you decide to open an account at XM, your chances of being accepted by the broker are very high. In fact, the majority of countries on every continent are supported by XM, including Australia, the UK, Germany, India, South Africa, and many more.
However, we do have to mention that the countries with unstable economic conditions won't likely make it to this list. Plus,
The United States
Canada
Israel
Iran
also are out of XM's coverage, which is pretty understandable as these countries either have very strict financial rules and guidelines or are in dire economic conditions.
Which platforms power XM's deposits and withdrawals?
When you go through the entire process of registration at XM, you will have to make a deposit to actually start trading. According to our findings in this XM broker review, there are tons of different payment methods that you can use at XM.
But first, let's see what the minimum deposit requirement looks like:
Micro Account: $5
Standard Account: $5
Ultra Low Account: $50
Shares Account: $10,000
Every client and account holder at XM have the same designated deposit requirement, which, as you can see, is very affordable. With a $5 deposit, almost anyone can start trading and actually have very little to lose.
And when it comes to actually making these deposits, as well as withdrawals, here are the platforms to use:
Visa credit/debit card – Instant; Withdrawals in 24 hours
Visa Electron credit/debit card – Instant; Withdrawals in 24 hours
MasterCard – Instant; Withdrawals in 24 hours
Maestro – Instant; Withdrawals in 24 hours
UnionPay – Instant; Withdrawals in 24 hours
Neteller – Instant; Withdrawals in 24 hours
Skrill – Instant; Withdrawals in 24 hours
Sofort Banking – Instant; Withdrawal speeds depend on the country
Bitcoin – Instant; Withdrawals in 24 hours
Bank transfer – Instant; Withdrawals 2-5 business days
It's pretty apparent from these payment methods that XM is one of the most advantageous brokers to trade with. Besides very fast transaction times, the broker also eliminates all transaction commissions whatsoever, except for the wire transfers below $200.
Which XM platforms can you use for trading?
This next important section to examine in our comprehensive XM Forex broker review is the pieces of software that you use for trading. And it would be a massive understatement to say that XM features good trading platforms on its website; MetaTrader 4 and 5 are by far the best pieces of software that the majority of Forex brokers use.

We have compiled yet another list that talks about some of their most notable features:
MetaTrader 4:
Tradable assets: All of them except stocks and shares
Order types: 4
Technical indicators: 51
Automatic trading: Supported
Copy-trading: Not supported
Desktop compatible: Yes
Web compatible: Yes
Mobile compatible: Yes
MetaTrader 5:
Tradable assets: All 1,000+ of them
Order types: 4
Technical indicators: 30
Automatic trading: Supported
Copy-trading: Not supported
Desktop compatible: Yes
Web compatible: Yes
Mobile compatible: Yes
MetaTrader 4 in detail
MetaTrader 4 is MetaQuotes' biggest and most popular software release that characteristically changed the entire trading market. Back in 2005, when it was first introduced, MT4 improved the stability of trades, as well as brought so many tools and features for more accuracy.
As you saw in the list above, XM's MT4 features 5 asset classes, omitting stock CFDs and shares. And there's nothing surprising about that: this platform has a very specific limitation as to how many instruments it can accommodate – it is somewhere around 1,000. And as we saw above, there are well over 1,000 stocks and shares found during our review of XM Forex broker.
But this is definitely not a significant disadvantage. In fact, the advantages that MT4 offers are way more defined and impressive. For instance, financial analysts regularly deliver trading signals through this platform, which are very helpful for placing trades that actually succeed.
When it comes to order types, XM's MT4 features four of the most important ones:
Market orders
Limit orders
Stop orders
Trailing stop orders
So, as you can see, a mere limitation in instrument number doesn't hinder MetaTrader 4 to perform at its finest at XM.
MetaTrader 5 in detail
MetaTrader 5 is also one of the most widely-acclaimed platforms released by MetaQuotes. It was introduced back in 2010 to the trading community, and it brought some additional features and functionalities its big brother lacked, including a much larger instrument number, economic calendar, market depth, and many more.
At XM, MT5 serves a very specific purpose: it makes stock/share trading possible. As we saw earlier in this XM review, stock CFDs and shares aren't supported by MT4, simply because there are too many of them. And that's where MT5 comes in: it has a much looser limitation and can pretty easily include all of those instruments. And in terms of other features, such as order types, execution speeds, and Expert Advisors, MT5 is pretty much identical to MT4.
XM trading on your smartphone
Yet another great advantage of XM is that it also features smartphone applications for both iOS and Android devices. It's worth mentioning that there aren't XM's proprietary platforms; they're simply MetaTrader apps that can be downloaded straight from the App Store or Play Store. Once you do that, you can enter your XM credentials and trade just about any asset with the same trading terms and conditions.
Execution policy at XM
When it comes to the execution policy at XM, our team was positively impressed by the features and conditions that the broker offers. The first main detail about the trade executions is that the overwhelming majority of positions are executed in less than a second, some even open instantly, which is a great feature that any Forex broker should have.

But besides execution speeds, there are many other specs that are worth noting. For example, as our XM broker review shows, there are 4 different order types you can place:
Market
Limit
Stop
Trailing
Supporting market orders means that you're always getting the most accurate price quotes and spreads are as shallow as possible. Besides, this also means that XM cannot – and consciously doesn't – do requotes, which oftentimes results in the loss of trust between the broker and its clients. Plus, XM also has no rejection policy all the way from 2010.
As for the trailing stop order, what we should say is that this is a high-end trading condition that allows you to maximize profits. When you apply it to your position, the trade will remain open as long as the market is moving in your favor, and it'll immediately close when the market goes against you with a certain amount of a pip.
Yet another important detail about XM's execution policy is that the broker allows you to have 200 positions open simultaneously. And each of them can be 50 lots in size, which is crazy to think about – you can possibly control a trade that is worth 5 million.
Education materials at XM
Education is one of the most impressive offerings of XM. As our XM Forex broker review has revealed to us, there is a bunch of different educational materials available on the website for you to get.
These materials include live webinars and seminars, video tutorials, XM platform walkthroughs, etc. These materials prove once again that XM is definitely focused on the best customer experience on its platform.
Here, we have all of the available educational resources that will help you maximize your trading effectiveness:
Trading academy
Trading academy at XM isn't actually named that way; rather, it's called Forex seminars. This section includes lots of different seminars conducted every year and they're super-insightful with the knowledge they convey. Besides, XM's professional financial analysts and traders deliver these seminars in 16 languages – something that not many brokers can boast with. And to top it all off, all of the seminars are stored on the platform for future use – we found seminars all the way from 2016.
Online webinars
Dozens of financial analysts at XM come together to conduct live webinars about all sorts of topics. They explain to you how Forex trading works, as well as how you can take your profitability to the next level.
Educational videos
Educational videos found during our review of XM Forex broker take you through the entire trading platform and explain how to use all of XM's offerings. These videos are uploaded on YouTube, which delivers all of the best functionalities, like subtitles, speed controls, and many more.
Term glossary
Finally, there's a moderately large glossary section with all of the important terms and phrases of Forex trading. These include the explanations of equity, used margin, exchange rate, and many more important terms.
Conducting research at XM
The next section, and the one that is no less important than the educational section, is research. Some people believe that online trading and gambling are very similar to each other, simply because they rely much on chance.

However, one big difference between the two activities is that traders have lots of different tools and materials right at their fingertips, be it interactive videos with market insights, market news and analyses, technical indicators, economic calendar, and many more. Let's dive deeper into these features individually.
Forex news
When it comes to trading Forex, it is absolutely crucial to follow all of the major economic developments that affect currency prices. With XM, you're getting the most up-to-date market news from the broker's own writers, who directly take those news from trusted publications.
Trading ideas
The next important research feature found during this XM review is trading ideas. These ideas are generated to represent the overall sentiment of traders – whether the bulls or bears are winning over the market.
Technical indicators and signals
As for the technical indicators, we came across over 50 different indicators at XM. These are the tools that are built in the trading platforms and they help you predict future price movements. Trading signals, on the other hand, are basically the calls for action from reputable market analysts of XM. These signals are provided 2 times a day, which is a great offering.
Autochartist
The autochartist tool is yet another research tool that is built in the trading platforms. It autonomously observes your chosen instruments and alerts you when they show signs of favorable movement.
Which methods are available for contacting XM?
The final, and no less crucial, section that we're going to cover in our review is the customer support. It is always crucial for the broker to provide stable interaction mechanisms that aren't too difficult to comprehend.
And as this XM Forex broker review shows, the broker has nailed this section down to perfection. The exact methods of contacting XM are:
Live chat on the website
Phone call: +501 223-6696
Email support: support@xm.com
Live chat
Live chat is almost always the best option for people who want to get the fastest responses. And XM's live chat doesn't fail to deliver that convenience. However, it is important to point out that this feature, regardless of its promptness, still doesn't lack in-depth and comprehensive answers. A couple of times, when we had to contact the broker, we received very helpful responses that were also quite friendly.
Phone call
When it comes to phone calls, you're not getting as fast responses as with live chat – it usually takes 10 minutes for the support team to answer your call. However, the same level of professionalism was also visible for this contacting method.
Email support
Finally, there's the email support, which is always one of the most fundamental means of interaction between a company and its clients. Now, even though this is the slowest contacting method among the three, it's worth noting that through email, you're getting the most formal and in-depth responses as well. For that reason, some people are ready to sacrifice convenience over complex answers from the support team.
Is your money safe with XM? – Final thoughts
As our review of XM Forex broker has clearly stated, this is the broker that does everything to provide the most customer-oriented trading platform. But let's not do vague assessments and run through the most important XM features one more time.
So, XM's trading brokerage features licenses from some of the most trusted and well-respected regulators in the world, including the regulator from the UK, Australia, Cyprus, and more. The broker also protects your funds under its negative balance protection, fund insurance, account segregation, and many other mechanisms.
When it comes to trading itself, XM provides more than 1,000 different instruments from 6 different asset classes. The maximum leverage for these goes all the way up to 1:888, whereas spreads go down to 0.6 pips. And, apart from spreads, there are hardly other trade-related commissions, which takes XM's trading platform to the next level.
As for education and research, XM doesn't fail to deliver a top-notch experience; educational resources are thorough and complex, whereas research materials promise to increase your profitability and minimize your losses.
With all that, it's pretty obvious that the XM Forex broker is one of the ultimate bests in its class!
Frequently Asked Questions
Is XM a regulated broker?
Yes indeed, XM is a properly regulated broker with tons of different regulatory institutions. In our XM review, our team discovered that the broker owns licenses from five different institutions, including FCA, CySEC, IFSC, ASIC, DFSA. These licenses come from some of the most financially aware countries, be it the United Kingdom, Cyprus, or Australia. They ensure that when you invest your money in this broker's platform, you're not going to regret it.
What is the minimum deposit requirement at XM?
When you decide to sign up at XM, the obvious choice here is to decide which account you want to create. Each of the offered accounts has different minimum deposit requirements:
Micro Account: $5
Standard Account: $5
Ultra Low Account: $50
Shares Account: $10,000
As you can see, the ultimate minimum deposit threshold is just 5 USD, which is pretty much to say that there is none. This indicates that XM cares a lot about its beginner customers and wants to include them into his platform as easily as possible.
How does XM protect my money?
The five licenses discovered during this review showcase a couple of things; for one, XM is strictly monitored by five different institutions, which means it cannot possibly engage in fraudulent activities without an implication. For another, the broker features lots of different fund protection mechanisms, be it negative balance protection, fund segregation, or a money insurance policy. Each of these mechanisms, both individually and collectively, ensure that the money you deposit is safely stored at XM and won't be affected by various unexpected occurrences on the market.
Does XM charge commissions?
When it comes to commissions, XM manages to do away with the majority of unnecessary charges on its platform. What this means is that there are no account maintenance fees or instrument-specific charges. Besides, you can make deposits and withdrawals free of charge. With that being said, there are trade-related commissions that primarily come as spreads and overnight fees. And to be fair, even these are quite low and affordable for the majority of Traders.
RISK WARNING: YOUR CAPITAL MIGHT BE AT RISK