The Forex industry is growing very quickly, so it is no surprise that more and more brokers are popping up left and right, seemingly on a daily basis. Oinvest is seemingly one of such companies, that sort of sprouted into the industry out of nowhere. The company comes from South Africa and states, loudly, on its website that it is a global company, providing services to countries all around the world. Except to write this Oinvest.co.za review we had to jump through a number of hoops. Why? Because the service is not available to certain parts of the world. But being the dedicated bunch of reviewers we are, we did some internet magic (and got in touch with our South Africa based colleagues). Conversely, we no have reason to believe that the broker, while not the best in the world, has cause to be considered one of the better ones in the region. Why? Well, let's find out.
The Website
The first thing you notice, once you manage to get into the website, is the sort of mediocre design that it has. The website has a number of qualities that it takes from bigger, better and international brokers. A simple design with a large homepage showcasing some of the details about the company. Great! Except there are several problems. The first problem is the fact that the company doesn't really showcase much information on the homepage, other than mentioning the fact that there is a platform to trade on and an educational platform. Oinvest South Africa has a terrible navigational menu, designed so simplistically and in such an ugly way, it would make you not want to navigate through the website at all.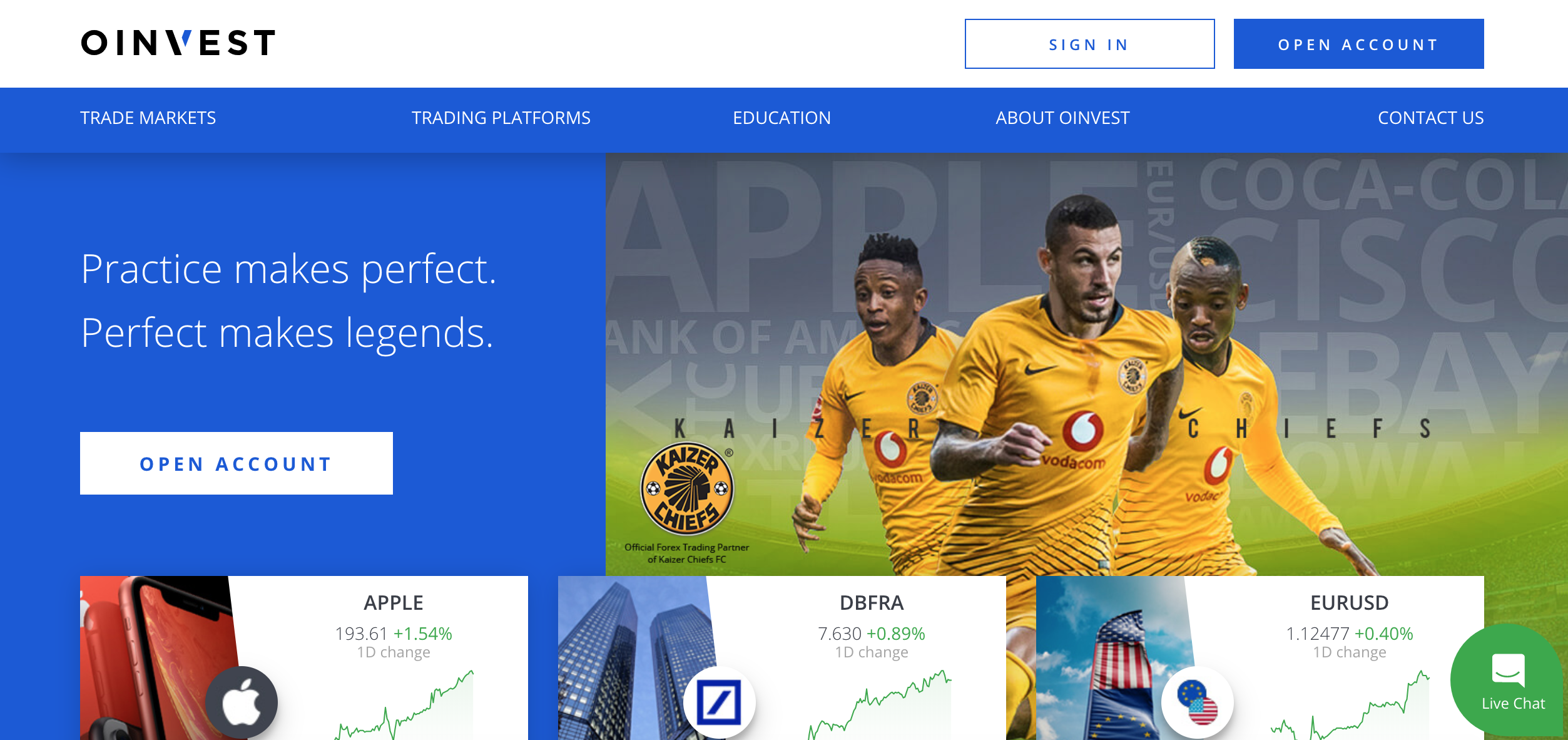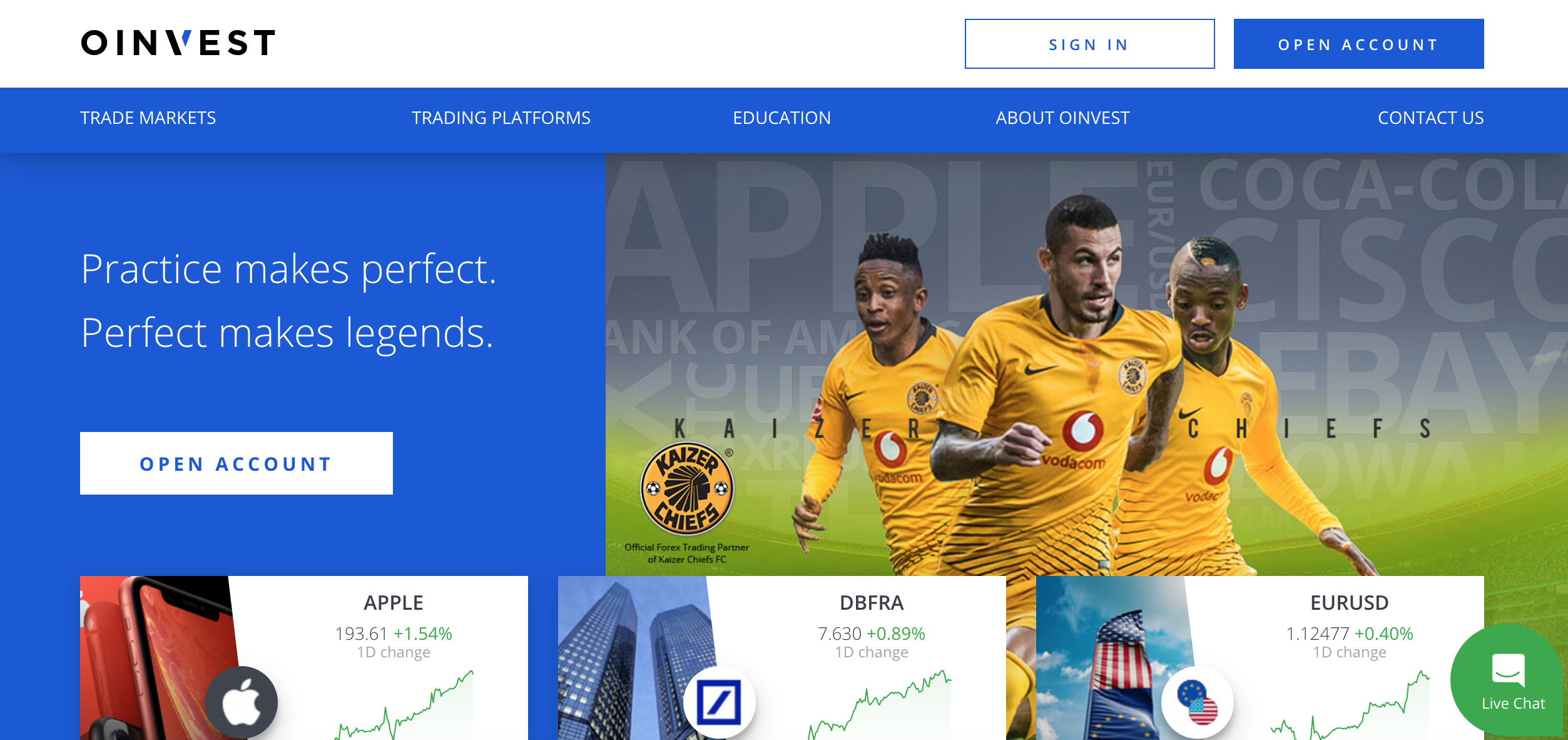 Though you can navigate, which is more than we can say about some other local brokers. Though there is not much point to navigation – going through the different parts of the website does not provide you with any extra information that could be useful. You end up traveling to one ugly page after another. The information provided on these pages is very general and does not provide you with enough knowledge about withdrawals, deposits, and other operations you might be interested in conducting with the broker. The thing with Oinvest SA is that, despite claiming to be a global company, it does not provide the users with any other language options, other than English. This is a bad sign, but considering that the company caters exclusively to South African users, it makes sense. What is even worse though, is the fact that the English that the company has on their website is on the bad side. While it is not obviously misspelled, there are some sentence construction issues and grammar problems that indicate that the company might not have been created by someone who speaks English as their first language. Something that could be improved but is not a sign that Oinvest.co.za scam is a possibility.
Account Types
Once you have navigated through the website enough, you will discover that the brokerage offers several tiers of account types. These are Silver, Gold, and Platinum. Three tiers are not the worst thing they could be offering. They specify several things on this page, which is a good thing to see when you are trying to write about the Oinvest Forex brokerage review. But there is a slight problem with this information: the spreads change the higher up in the tier list you go, becoming smaller. This encourages you to want to become a high tier user. The leverage also gets much higher as you go up the tier list – from 1:200 from the lowest tier to 1:400 at the highest.
This seems to be a way to encourage newcomers to the platform to invest a lot of money. The problem is, they do not specify how much money you need to invest to become a high tier trader. They simply say that with higher time and resources invested, you go up the tiers. This leads us to suspect Oinvest fraud,  but after experiencing the service they provide, we are confident that there is nothing of the sort. They are simply trying to adapt their numbers to what you might be comfortable with investing. Maximizing their profits and yours is what we assume the reason is.
OInvest Bonus
Currently, the company does not seem to be offering any kind of bonuses at the time, but this did not stop us from looking at and exploring the bonus terms that they offer. They specify, at one point in their terms, that for every 10 US dollars of a bonus they offer, the trader will have to make trades that earn around $180 000 to claim it. That is an exorbitant amount of money. It is very unlikely that anyone who signs up for a $10 bonus will be able to earn that much amount of money, especially with a 90-day limit (which they impose) from when the bonus is received. So, as a result, the OInvest rating currently sits at the lowest it could.
Regulation
One of the most important qualities of a Broker is whether they have a license to operate within the borders of their country (or countries) that they are claiming to be operating within. The OInvest FX brokerage claims to be licensed by the FSCA. So we decided to double check – is OInvest FSCA regulated? We took the license number the company claims to be operating with, the name of their parent company and the OInvest name and traveled to the FSCA online resource. There we used all three to search for a related license.  As a result, we have concluded, that the company is regulated by the FSCA. You might then ask, is OInvest FSB regulated? The answer, again, is yes. Because both of those things are the same thing. So the company does not have a license, which should help you realize that you should never, ever deal with them.
Conclusion
We did not even have to explore the minor details and features of the company to come to the realization that the company is nothing but a scam. We suggest you stay away not because OInvest Scam is possible, but because the broker has a long way to go. Whenever you see their name mentioned anywhere on the internet, make sure that they have made their service better. Hopefully, you will find this review useful in your future exploration of a broker to pick.