In recent years, Forex trading saw huge growth. With the development of the internet, more people than ever before have access to the world of Forex. But with this huge development, many problems and challenges came as well. Because of that, many people are having a hard time finding a trustworthy and safe Forex broker.
Today, we are going to review T1Markets, a Forex broker that is based in Cyprus and offers services to the citizens of the European Union. This broker has been around for some time now, and over the years, it got better and better. There are many trading instruments that the broker offers to its users, and since the regulatory framework of it is created according to the one of the EU, it is considered to be a fairly safe Forex broker.
There also are many principles that T1Markets follows to make sure that its clients stay as safe as possible. With the help of the KYC, every user of the broker is checked very well. So, if you are looking forward to starting trading with this broker, we would encourage you to read our review carefully to learn everything about the offerings that T1Markets has for investors.
How T1Markets keep investors safe?
As we have already said, T1Makerts is an authorized Forex broker. Cyprus Securities and Exchange Commission is the regulatory agency that oversees the services of this broker, and since Cyprus is a European country, the broker can offer services all over the region.
T1Markets is a trading name of General Capital Brokers Ltd, and the registration number of it is HE345774, the license number of T!Markets is 333/17. The broker is registered at WorldTrade Center, 1st Floor, 28th October Street 359, 3107 Neapoli, Limassol, Cyprus.
CySEC is one of the best-known regulatory bodies in the region and most of the brokers own the license from this agency. One of the main reasons is that while following the policies of the EU, it is not as strict as other regulatory bodies on the market. However, CySEC still manages to create a safe and secure environment for traders on the market.
According to our review of T1Markets, by following the Know Your Partner Policy, the broker is working very hard to fight against the money laundering schemes. Thanks to KYC, the broker is exactly who is trading Forex with them, by obtaining detailed information about the investors.
The regulatory framework of CySEC
CySEC was created in 2001, and over the years, it has received some criticism from the market experts. However, in recent years, the agency was able to come across most of the challenges and is working very actively to prove itself. Since 2010, the policies for regulation at CySEC have changed a lot and the agency is constantly upgrading the regulatory guidelines. In 2012, the company has taken away the licenses from many companies and imposed huge fines on those who did not do their job with honesty.
The minimum capital requirement has increased significantly, which as of today stands at €750,000. Besides, investors who use CySEC regulated Forex brokers are added to the Investors Compensation Fund, also known as the ICF. This covers investments of up to €20,000 in case something goes wrong with the broker and it files for bankruptcy.
What can investors trade with T1Markets?
Trading instruments represent one of the most important parts of Forex trading. According to our review of the T1Markets FX broker, this broker offers many trading instruments that investors can trade right now. You can trade the following assets with T1Markets:
Forex
Crypto
Commodities
Indices
Stocks
Metals
Because there are so many assets available at T1Markets, any type of trader can easily find something that they would enjoy with this broker. Below, we will discuss every single one of these instruments one-by-one.
Trade Forex with T1Markets
Forex is one of the biggest online trading markets around the world. According to official data from 2019, the average daily turnover of the Forex trading as much as $5.1 trillion. The best thing however is that the numbers are constantly increasing and there are more and more people who are starting to trade currency pairs every day.
To say it is the easiest way possible, Forex trading is buying and selling two different currencies against each other. However, at T1Markets, traders do not have to invest in any currency directly, they can choose winning pairs and speculate on the price movement of the pair on the market.
There are more than 45 currency pairs available at the broker. You can trade Major, Minor, and Exotic currency pairs with T1Markets, which include pairs like USD/EUR, CAD/JPY, and many others.
According to our review of FX broker T1Markets, the broker has 0% commission. The spreads are also very flexible.
While trading Forex, there are no limits on the number of open positions at the same time, the trading environment can also be fully customized by you according to your own needs. You can also use more than 60 analytics tools to better speculate the possible price changes on the market.
While trading Forex with T1Markets, the leverage can go as high as 1:200 for professional traders and 1:30 for retail clients. However, it is not recommended for beginner Forex traders to do so because in most cases it is very dangerous to trade with such high leverage and one could even end up losing more than they used in the first place.

The increasing popularity of Crypto trading
Today, the cryptocurrency market represents one o the most talked-about markets in the world of finance. T1Markets supports more than 30 cryptocurrencies, and the CFDs of these cryptos can be very easily traded. By trading crypto at the T1Markets, you do not have to directly invest in the bitcoin or any other cryptocurrency, rather, you would use CFDs for its trading. According to the T1Markets review, the leverage for crypto at the broker can go up to 1:2.
Commodities trading at T1Markets
The best part of trading commodities is that it has been around for a very long time now and most of the people worldwide are very familiar with it. The commodities market can be divided into two different groups, hard and soft commodities. Hard commodities include natural resources like oil, gas, gold, copper, etc. and the soft commodities are the ones that we get from agriculture, such as cocoa, soy, wheat, and many others. People can trade more than 20 commodity assets with this broker. Th leverage of commodity trading at T1Markets is 1:125.
What Indices can you trade with this broker?
CFD trading at T1Markets is very popular, there are more than 20 major world indices available at the platform, you can trade indices like DAX 30, DOW 30, FTSE 100, Nikkei 225, and many others. The best part of trading indexes is the fact that it is made up of several components, which offers opportunities for higher price volatility, and many other benefits that professional traders enjoy a lot.
At T1Markets, you can trade indices with leverage of as much as 1:125. For the most success, traders can use a very useful economic calendar, analyze issues with more than 60 diverse tools, find new strategies, and more.
Stocks trading at T1Markets
While working on this review of T1Markets, we found that this broker offers shares of companies like Apple, Google, Microsoft, Mercedes, Sony, and many other leaders on the market. In total, there are available more than 45 stock assets at T1Markets, that can be traded with a leverage of 1:10.
Trade metals with T1Markets now
Trading precious metals have always been very popular, and this broker offers its clients to trade metals like Gold, Silver, Platinum, and many others. They are very actively traded around the world. You can trade more than 20 commodity assets of metals at this broker, with as much leverage as 1:125.
Trading metals is very popular around the world because they are known as the haven of the market. They offer huge stability to investors, because of which, many people decide to trade these CFDs.
Steps to start trading at T1Markets
Before you start trading with the broker, you will have to create a trading account. According to our review of T1Markets broker, The trading accounts at this broker are very diverse and they offer traders amazing opportunities. Generally, there is three types of accounts offered by T1Markets:
Silver -This account is created for those who do not have much experience in Forex trading, but want to start investing in the market. There are no deposit commissions for Silver account holders, the spreads are starting from 0.07, leverage is up to 1:200, and there are many currencies available
Gold – Perfect for intermediate traders, Gold account offers spreads from as little as 0.05. Leverage available for Gold account users is as much as 1:400, and there are no deposit commissions
Platinum – The main idea behind this account is to offer the most experienced traders something that they would love the most. With as little spreads at 0.03, investors can trade with a huge leverage of 1:500
As you can see, these account types are very different from one another and create environment where everyone can find something for their enjoyment.

Islamic Account
Our T1Markets broker review shows that it offers their clients the ability to trade Forex without going against their religious beliefs. Islamic Account, also known as swap-free account, is halal trading account that is offered for people who respect the Quran and the beliefs of it. According to Quran, more specifically, the Sharia law, it is prohibited to accumulate interest, which means that the users of Islamic Account users do not pay or receive any interest rates whatsoever.
How to create a trading account?
Opening a trading account with this Forex broker is fairly easy. All you need to do is to go to the create live account page and follow a very simple instructions. However, you will have to provide the broker several needed documents to verify you identity. After you have done so, it is now time to make your first payments.
How to deposit funds?
There are many payment options available, such as debit/credit cards, Skrill, Neteller, and many others. Accoridng to the broke , there are no fees applied to the deposits, however, it might take up to five days for the payments to be processed. Also, it is always a good idea to check the information about fees with your provider, in some cases, there are some fees applied to the payments from the side of the issuer.
Trading platforms of T1Markets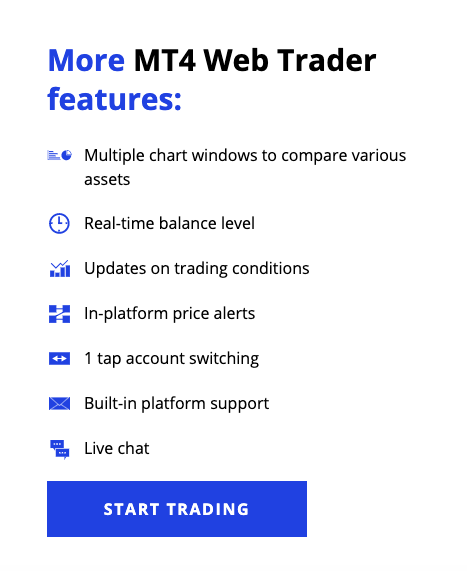 While working on the review of T1Markets Forex broker, we decided to focus a lot on the trading platforms that this broker has. Trading plaftroms are something that give you access to the market, because of which, they are very important. There are many available trading platforms on the market, and the main one that this broker has adopted is the WebTrader.
WebTrader is a well-known browser-based terminal that gives investors the ability to diversify their portfolio in just a few minutes. This works without any installations or downloads and can be used right away with the help of your browser. This platform is known for a very high-level functionality and high reliability, increased safety, and huge market availability.
This platform is able to immediately be synched with other MetaQuotes softwares, which makes it very useful. More than 30 technical indicators are available for traders using this platform, and it is best known for instant execution.
While using this trader, you have the ability to use multiple chart windows to compare different assets, check your real-time balance level, and use live chat.
Trade Forex with your phone!
In the process of reviewing T1Markets broker, we found that this broker has created mobile versions of its website. It offers services to the users of iOS and Android users with the help of the MetaTrader 4. This platform is very useful, and you can do everything that you would do using your PC. Being able to trade with mobile phone gives you the ability to trade Forex no matter where you are, and it is a great offering for those who are always on the go.
Trade with T1Markets and learn more about Forex market
The regulations are requiring this broker to offer their clients educational material. The broker has created dedicated page for educational material, where you can find information about anything. It is very useful even for those who have a huge experience in Forex trading, because it offers news articles about the ongoing events that can affect the changes on the market.
Everything on the website is written in a very user-friendly manner and no matter how experienced you are, you can always learn something new with this broker. There are several E-books, webinars, and classes available. The educational material is created by some of the expert traders, with the help of which you can share their experience and learn more about the world of Forex and trading in general.

Customer Support team & the website
Customer support team represents one of the most important things about safe and secure Forex trading. Our review of T1Markets who that there are several ways traders can contact the customer support team, including:
Live Chat
Phone number – +80040408888
E-mail – Support@t1markets.com
We tried to test out these options on our own and found that the fastest to help and reply is the live chat. It takes them less than a minute to get back to you and they are doing their best to offer their services. The live chat is available in many European languages, and is open for 24/5.
The website also looks very good, the information is distributed on different pages very logically and you can find anything that you need in just a few minutes. Also, the design is very nice. The website has two, English and German versions. All of the legal documents about the broker are also available for everyone who might be curious about them.
Is it recommended to start trading with T1Markets?
While working on this review of T1Markets FX broker, we found that it is a trustworthy Forex brokers. Of course, there might some minor challenges, but after so many advantages they are nothing. The. broker is working very hard to offer their investors European-level experience, and by following European regulatory guidelines that are managing to create a very safe and secure Forex trading environment.
Creating trading account at the broker is a very simple procedure and can be done even the least experienced people in the world of Forex. Also, this Forex broker makes sure to offer investors diverse versions of deposit options, so that everyone can easily use the services of the broker.
The accessible market of the broker is very huge, with dozens of different assets. Everything from currency pairs to precious metals can be traded at T1Makrets and because of such diversity, many people decide to use this Forex broker for investments. Over the last few years, this broker has worked very hard to create a very safe and secure environment, it got its license from CySEC in 2017, and as of today, is available in the whole region of Europe.