In a world of online trading, IQ Option has cemented itself as one of the most trusted and reliable platforms to trade with. Being on the market for 7 years already, the broker has gained a lot of fame and acclaim in the industry.
One of the biggest advantages of IQ Option is that it has a sound and stable license from CySEC, Cyprus' main regulatory institution. With this license, the broker automatically adheres to the financial standards and guidelines that regulate the EU market.
With such regulatory oversight, IQ Option manages to offer over 250 different instruments with very impressive terms and conditions. These conditions are additionally coupled with lucrative bonuses that regularly occur on the platform.
In the following review of IQ Option Forex broker, our team will cover every little detail that you need to know about this broker. We will leave no stones unturned and offer you our honest take on IQ Option's trading platform.
The company in a nutshell
The first entry in our in-depth review is going to be IQ Option's historical background and current market influence. As noted in the introduction, the company was established back in 2013 in Cyprus. The company headquarters is located in the following address:
Yiannis Nicolaides Business Center, Agiou Athanasiou Avenue 33, 4102, Agios Athanasios, Limassol, Cyprus
As of today, IQ Option owns one of the largest trading platforms on the market. According to this years' data, the broker brings together almost 50 million registered users, amassed $290 million in monthly traded volume, and a customer support team with around 80 professionals.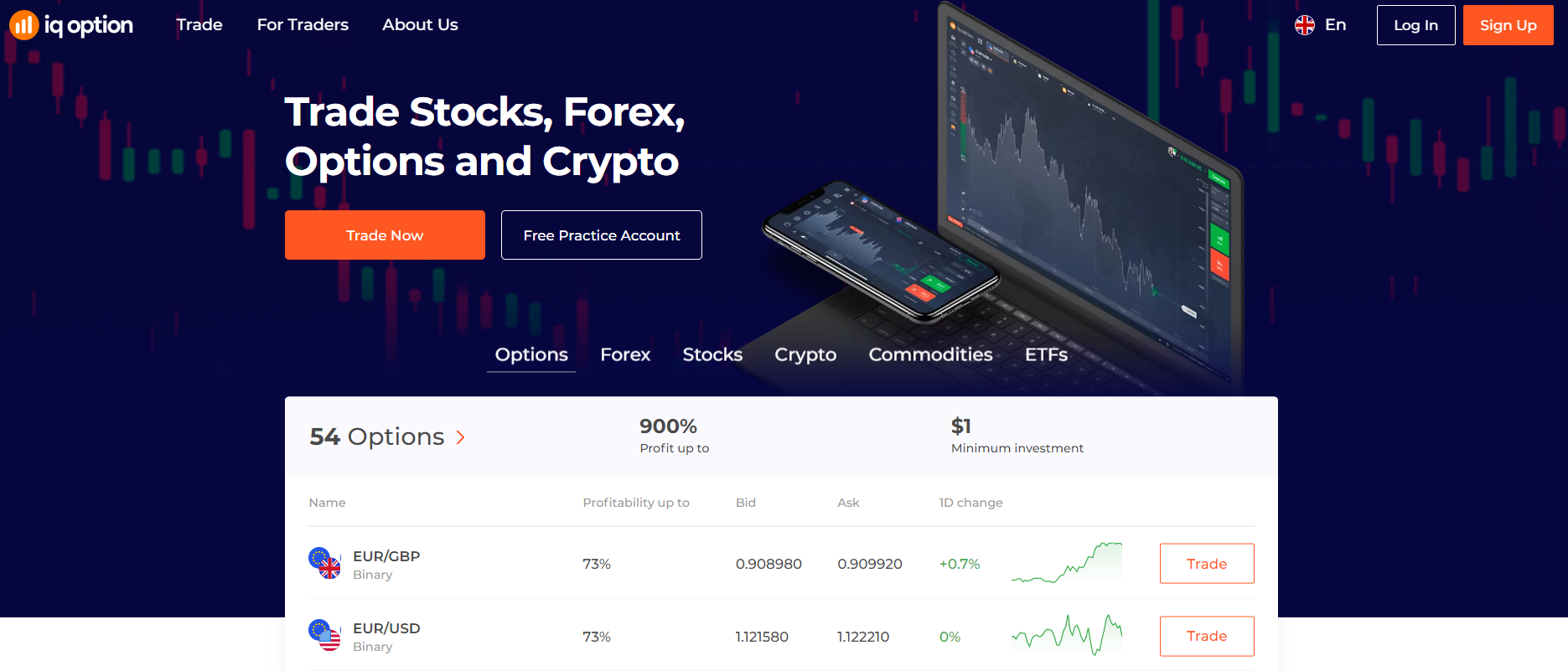 Publicity is one of IQ Option's strong suits; when searching for any kind of negative coverage on the internet, we only found positive publicity from mainstream publishers. Furthermore, they explicitly point out that in a world of binary options trading – which is characterized by an abundance of scams, IQ Option manages to keep things clean and trustworthy.
With that being said, our IQ Option review already shows that this is a highly-trustworthy brokerage and your money is safely kept with it.
Top-notch safety measures at IQ Option
Safety is arguably the most important reviewing aspect in this review. Regardless of how impressive the offered terms and conditions are, if the broker doesn't comply with strict financial guidelines, its platform is pretty much unsafe.
Thankfully, that's definitely not the case with IQ Option. As our team has discovered, the broker has a license from Cyprus' main regulatory institution.
Cyprus Securities and Exchange Commission (CySEC)
Now, there's this misconception that the financial license from the Cyprus Securities and Exchange Commission is a facade that lots of Forex brokers use. Under its guise, these brokers presumably manage to cover their activities and earnings.
However, one of the aspects to realize with this license is that it still operates in the European Union. And if there's one thing certain about this organization is that all EU-members adhere to strict rules and guidelines.
The regulatory oversight of the CySEC – our main discovery during this IQ Option Forex broker review, – as well as the Markets in Financial Instruments Directive (MiFID), ensure that when you do sign up at IQ Option, your money is in safe hands of the most sophisticated institution.
Besides, an unregulated broker wouldn't have garnered such vast attention from prestigious awards. For instance, IQ Option has been a recipient of the 2017 Award of Excellence, the Best Binary Options Broker, and the Century International Quality Gold ERA Award.
In short, IQ Option once again proves to be a broker you can trust.
Protecting your funds
Now, having a CySEC license, or just about any credible license for that matter, isn't merely a proof that IQ Options is a trustworthy brokerage. It also brings along a cascade of fund protection mechanisms and schemes.
One of the most fundamental mechanisms is called negative balance protection. When you use the margin account to leverage a higher trading capital, you inadvertently increase the risk of higher losses. And in just a split second, your account can easily go into the negative balance and compel you to pay for losses.
With negative balance protection, IQ Option makes sure that whenever you reach 0 on your account, a trade will automatically close. As this IQ Option broker review reveals, you can be sure that the broker will never benefit from your misfortunes.
The next protection mechanism to have your funds securely stored at IQ Option is fund segregation policy. When you register at the platform and make a deposit of any sum, your money will be stored on a segregated account. This way, it'll be safe in the case of financial instability within the company, and IQ Option won't use it to pay to its clients.
Additionally, there are other risk management strategies like stop orders that also enhance your profitability and fund safety. We'll discuss these features by the end of this review.
Which assets can you trade at IQ Option?
Moving on, we will take a closer look at which financial instruments are available at IQ Option to trade. As we have discovered, the broker offers over 250 different assets from six different symbol classes:
Options
Forex pairs
Stocks
Cryptocurrencies
Commodities
ETFs
An abundance of tradable instruments means that you can trade a bunch of different assets simultaneously and have a diversified portfolio for better stability.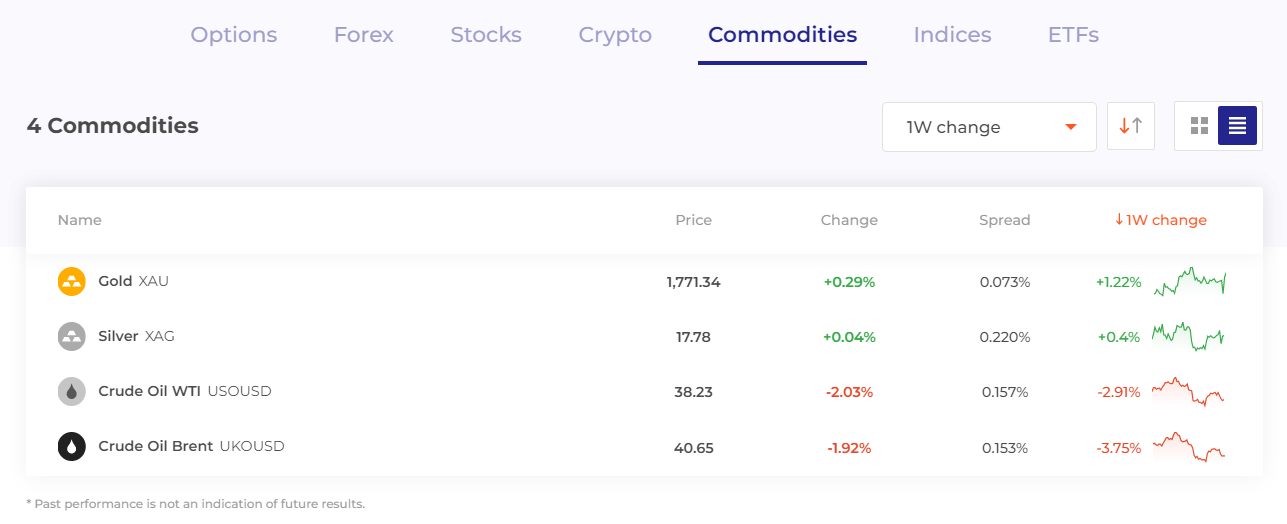 Digital/Binary options
As we have discovered during this IQ Option review, and as the name of the broker suggests, the main trading instrument here is options. But as the recent history shows, the majority of options brokers turn out to be scammers, while the majority of options traders – scammed.
That's why it is all the more appreciated to see a broker that delivers the top-notch options trading experience. But what is the essence of these instruments anyway? Basically, if you trade options, be it digital or binary, you're not actually owning or buying an asset or its contract; you're merely saying that if its price moves in this direction and stays there by the expiration time, you'll get the profit.
For digital options, you indicate the extent to which the price will change, and if it actually happens that way, you'll come out with a potentially huge profit. And with binary options, you're merely speculating whether the price will go in a certain direction.
Either way, 54 individual options available at IQ Option offer very lucrative conditions: promising profits up to 900% profits, $0 brokerage fees, and $1 minimum investment. For digital options, the expiration time varies between 60 sec – 15 min, whereas for binary options, that time revolves around 60 sec – end of the month.
Currencies
Another primary trading asset class found during our review of IQ Option Forex broker is currencies. With a minimum investment of $1 and the maximum leverage of 1:1000, 58 different currency pairs are set to make you more profitable on the market.
Another great advantage of IQ Option's currency pairs is that there are no swap charges for overnight trades (at least for the newly-added currencies), and spreads for the EUR/USD pair go as low as 0.7 pip.
Stocks
Next up, let's talk about IQ Option's stock assets. Now, it's worth noting that this is not a broker that primarily focuses on stock trading, which is why we didn't see thousands of individual company shares on its platform.
However, there's still a decent number of stocks: 185 in total. These assets include financial papers of Apple, Facebook, Tesla, Amazon, and many corporate giants. The minimum investment requirement here is the same $1, whereas the maximum leverage goes up to 1:20.
Cryptocurrencies
Another great addition to IQ Option is crypto assets. During our review, we came across 24 different digital assets that include Bitcoin, Tron, ZCash, and many more. It's impressive to note that the maximum leverage for these assets goes up to 1:100, whereas other brokers max out at 1:5 at the most.
Commodities
Commodities are by far the most limited asset class found during our IQ Option broker review. It includes 4 resources: Crude Oil WTI, Crude Oil Brent, Gold, and Silver. And the maximum leverage is 1:50.
ETFs
Finally, there are Exchange-Traded Funds (ETFs) that cover some of the most popular indices, including the S$P 500 ETF, Dow Jones Industrial Average ETF, and Gold Miners ETF. Just like with stocks, leverage for ETFs goes as high as 1:20, which is still a lot.
Commission levels review of IQ Option Forex broker
After covering IQ Option's trading instruments and their leverage offerings, it's time to move on to the commission levels that they're accompanied with. As a credible and responsible trading brokerage, IQ Option has a decent commission scheme that manages to cover all of its services, yet remain on a reasonable level.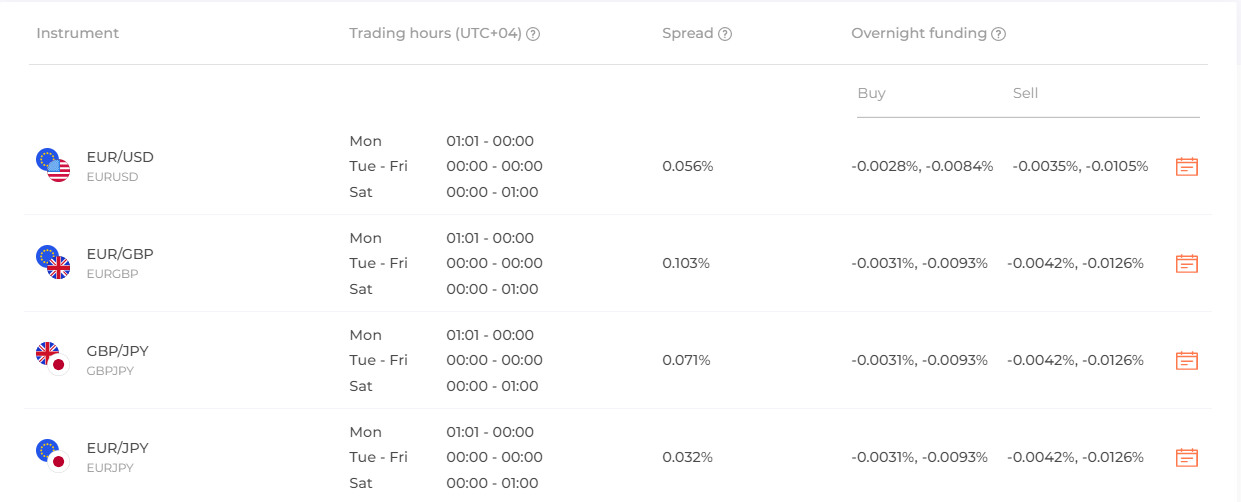 In this section, we will talk about both trade-related and non-trading fees and determine, whether they're acceptable for IQ Option's clients.
Trading fees
When discussing trading fees, it is important to note that IQ Option tries to eliminate charges that aren't necessary for the maintenance of its platform. For that reason, there are no account creation fees at all.
Currency fees
The primary source of income found during this IQ Option Forex broker review are spreads. And with currency pairs, bid/ask spreads go as low as 0.4 pips (0.7 for EUR/USD). As you can see, these are very acceptable spread charges for a broker that mainly depends on these commission types.
Stock fees
The same thing is true for stocks. IQ Option doesn't charge any other commissions other than bid/ask spreads. And these can go as low as 0.025%.
Cryptocurrency fees
Some of the highest spread quotes we found were for crypto assets. These usually went way over 4%, but it's crucial to point out that digital instruments are always pretty expensive to trade. Additionally, there's the maintenance fee for crypto positions that depend on the period during which the position is held open:
3 months – 0.25%
6 months – 0.50%
9 months – 0.75%
12 months – 1.00%
13 months – 1.25%
14 months – 1.50%
15 months – 1.75%
16 months – 2.00%
17 months – 2.25%
18 months – 2.50%
Commodity fees
If you choose one of four commodities to trade at IQ Option, you're going to get pretty acceptable spread quotes. Namely:
Crude Oil WTI – 0.154%
Crude Oil Brent – 0.150%
Silver – 0.219%
Gold – 0.073%
ETF fees
Finally, there are 24 different Exchange-Traded Funds whose only commissions come in spreads. These usually revolve around 0.04-0.1 pips.
As for options, IQ Options charges no commissions whatsoever.
Fees on overnight trades
The next important source of any brokerage is a swap, and it's not an exception for this broker, according to our IQ Option review. Swaps occur when you decide to leave a trade open on the current day and roll it over to the next one.
Because the interest rates are different for the two assets in one pair, there will be a time when either you or a broker will be in a disadvantageous situation during long-term trades. In those cases, the difference in interest rates is paid by or to traders in a form swaps.
Now, as we have discovered during our review, almost all instruments are charged a certain size of swaps. However, there is a small set of assets that you can trade swap-free. For instance, we have already mentioned above that a small number of Forex pairs, as well as digital/binary options, are swap-free, meaning you can place overnight trades and evade interest rate fees that usually come with such positions.
Non-trading fees
After trade-related commissions, it's time to talk about non-trading fees. First off, deposits and withdrawals. As IQ Option points out in the General Fees section of the website, there are absolutely no commission charges for deposits.
But with withdrawals, our review of IQ Option Forex broker reveals that there's a slight commission charge applied to these transactions. For example, every fourth withdrawal every month will be charged a fixed 2% fee. Plus, if a client deposits money and tries to withdraw the entire sum of it (or 80% of it) without having placed a single trade, IQ Option reserves the right to charge a commission that is equivalent to the commission the broker paid for facilitating the original deposits.
Next up, there's the dormant account fee that applies to the accounts that have been inactive for a long time. According to IQ Options itself, an account that has been inactive for 90 days straight will be charged with a certain amount of commission from the broker. However, if there are insufficient funds on the account and it's been already 12 months of inactivity, IQ Option maintains the right to charge lower commissions and close down the account.
Apart from that, there's the account closure fee that occurs if the broker closes its client's account. This applies to the cases when a client doesn't provide verification documents within 15 days from their first deposit.
Bonuses at IQ Option for better customer experience
As they say, no broker is complete without their bonus promotions. And while this statement isn't necessarily true, it's still nice to find one or two bonuses that take trading with this broker to the next level.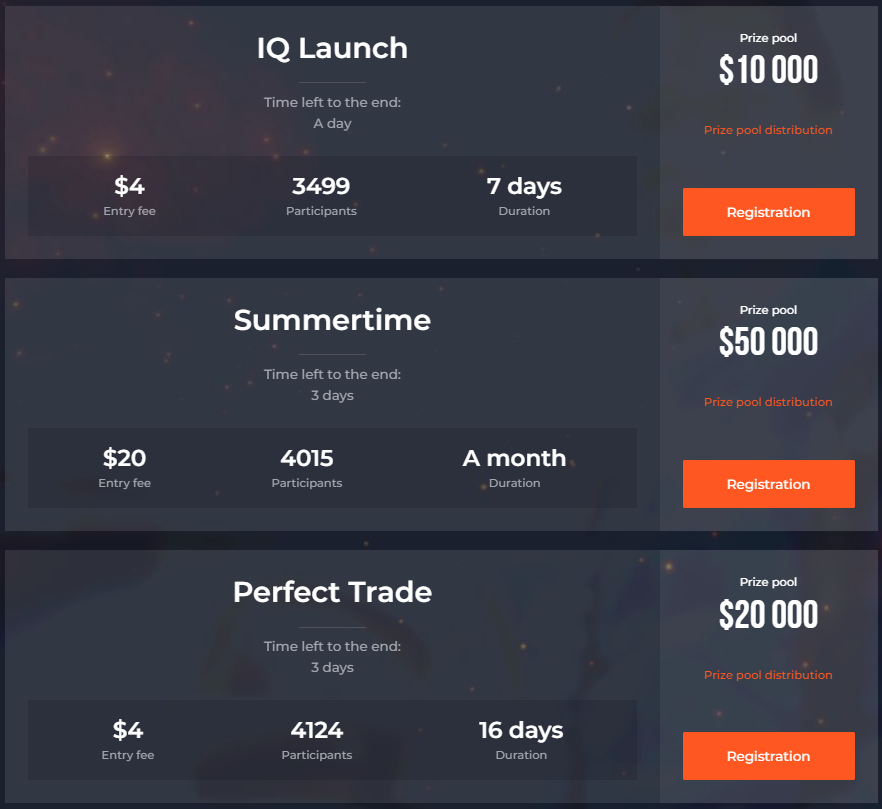 As discovered during our IQ Option broker review, the broker constantly features high-end promotions and tournaments on its platform. At the time of writing this review, our team found three different promotions:
IQ Launch
Summertime
Perfect Trade
These tournaments have quite impressive prize pools, as well as affordable entry fees. For the IQ Launch, the maximum prize pool is $10,000, while the entry fee is $4. With a $20 entry fee, you can participate in the Summertime tournament and compete for a prize pool of $50,000. And finally, there's the Perfect Trade promo that offers a $20,000 prize pool for just a $4 entry fee.
Trading accounts available at IQ Option
After a complex overview of the broker's trading terms and conditions, it is now time to discuss all of the IQ Option's trading accounts. And as our team has discovered, the broker offers two live trading accounts, one Islamic, and one demo account to its clients from different areas or different experience levels.
Now, before we dive deeper into this IQ Option Forex broker review of its accounts, it is important to note that the two live accounts, Standard and VIP, are very similar to one another in terms of their actual trading numbers and conditions. That's why we're only going to list the specifications of a Standard account here.
Standard account:
Min. Deposit: $10
Min. Spreads: Variable from 0.4 pip
Commission: 0%
Max. Leverage: 1:1000
Tradable assets: All 6 of them
Execution Type: Market
Automated Trading: Supported
Platforms: WebTrader (Windows/macOS), Mobile Trader
VIP account:
If you go for a VIP account at IQ Option, you will get a set of privileges that aren't available for other account holders. For instance, the VIP account increases your profitability, gives you support for 24/7, and delivers some of the most complex training materials that we'll cover in the upcoming chapter of this review.
Islamic account
Other than the two above-mentioned live account types, IQ Option also allows its Muslim clients to get an Islamic account and trade with more advantages. As our reader may already know, Islamic law is against charging an interest rate on anything, which is why overnight trades would practically be inaccessible for Muslim traders.
However, as our IQ Option review indicates, those traders can still engage in overnight trading by opting for an Islamic account. The moment they prove their faith, the broker allows them to trade swap-free, and also get some other benefits, such as have a part of their profits donated to charitable organizations commission-free.
Demo account
Last, but certainly not least, there's a demo account that lets you trade virtually and improve your trading expertise. According to IQ Option's description, a demo account has a refillable balance of $10,000.
Basically, this account gives you the exact same trading terms and conditions that you get with a Standard account. One big difference is that you don't deposit or withdraw money and anything happens virtually – although the market conditions are real.
Opening an account at IQ Option
After discovering all of the available accounts of IQ Option, it's now time to talk about what it actually takes to register for one of them. As our team has discovered, the sign-up process is pretty simple and doesn't burden you with many required steps.
First off, you need to hit an orange Sign Up button at the very top-right corner of the page. Then you'll see a window pop up where you fill in your personal details like the full name, email address, and preferred password.
After you press the "open an account for free" button, the broker will send you a verification link to your mailbox. As our review of IQ Option Forex broker shows, this is the final step that you take before your free demo account is created.
Now, if you are planning to turn it into a live account, you will have to provide some basic KYC details like your annual income, current employment status, trading goals, etc. Additionally, the broker will ask some sort of identification document to verify your identity, be it a photocopy of your national ID, driver's license, or a passport. Beware that if you fail to verify your identity within 15 days of creating your live account, IQ Option will charge an additional commission, as noted earlier.
During our review of the registration process, our team has revealed that the broker isn't too demanding and doesn't require an awful lot of documentation. And the ones that are actually required will help both the broker and yourself in ensuring that your money is stored safely.
Countries that are supported by IQ Option
One of the great advantages of IQ Option we found is that the broker fully lists all of the countries that it operates in. We have hardly seen a brokerage do that, which is why we were positively impressed.
Our IQ Option Forex broker review of the website lists all of 213 countries where traders can use the broker's services and products. And in order to avoid a fuss that's associated with listing so many individual elements, IQ Option categorizes the countries in alphabetical order, which is yet another clever move.
Now, even in such an abundance of supported countries, there are still some nations that fall beyond IQ Option's reach. As we have counted, there are 15 countries that aren't supported by IQ Option:
USA
Australia
Belgium
Canada
Iran
Israel
Japan
Latvia
North Korea
Pakistan
Palestine
Russia
Sudan
Syria
Turkey
For one reason or another, these countries didn't make in the list of supported countries. And we can understand why that would be: some of them are very strict on trading brokerages, some of them outright banish them, and so on and so forth. In short, we're much more impressed by hundreds of supported countries than disappointed by 15 unsupported ones.
Trading platforms available at IQ Option
The next important discussion point in this IQ Option broker review will be its trading platforms. A decent trading platform – the one that is full of different indicators and charting mechanisms – can positively impact the people's entire trading experience, whereas sloppy software will inevitably lead them to failure.
Having realized that, IQ Option has done a terrific job at providing polished trading platforms. Granted, these aren't quite as widely-known as MetaTrader or cTrader programs, IQ Option's proprietary software is still on par with them in terms of its capabilities.
Here's the main WebTrader platform, as well as its main features:
WebTrader:
Tradable assets: All 250+ of them
Order types: 3
Technical indicators: 100+
Automatic trading: Supported
Copy-trading: Supported
Desktop compatible: Yes
Web compatible: Yes
Mobile compatible: Yes
WebTrader in detail
When talking about IQ Option's WebTrader, it is important to point out that the platform can be accessed on both desktop and web browsers. And, unlike MetaTrader platforms that require additional manipulations to run on Mac devices, IQ Option's trading platform runs seamlessly on Apple's computers.
Besides such flexibility, IQ Option's trading platform packs some of the most impressive features as well. For instance, the platform supports more than 100 different technical indicators, which you can use to conduct technical analysis and closely predict future price movements. As our IQ Option review shows, these indicators include moving averages, volatility channels, oscillators, and many other categories of indicators.
Then there are various different order types that further increase the stability of your trades. For example, with the help of IQ Option's stop-loss/take-profit orders, you can set a specific point of a price change that you're comfortable losing/want to gain. As the asset price reaches that point, the order will automatically close the position, avoiding further losses.
Yet another order type that's also important to note is a trailing stop. It is somewhat similar to stop-loss/take-profit orders but has a more specific functionality. Basically, a trailing stop order allows you to have your trade open as long as the price is moving in your favorable direction. And when it starts moving against you beyond your specified pip count, the trade will stop automatically.
And on top of all that, there's a huge trading community that leverages the top-tier functionalities of this platform and provides other features such as Trader's Sentiment or Community Live Deals.
Trade with IQ Option on your smartphone
Now, besides the ability to trade on either desktop or a web browser, our review of IQ Option Forex broker also shows that you can trade all available instruments with pretty much the same functionality. The mobile trader is proprietary software developed by the broker itself, and is available for both iOS and Android devices.
How can you make deposits and withdrawals at IQ Option?
Moving on, let's take a closer look at how you can make payments at IQ Option. When we looked through which platforms power deposits and withdrawals, we were quite impressed by their sheer number. In fact, we found 7-8 different payment methods on IQ Option's website.
But before that, let's talk about the minimum deposit that you can make at IQ Option. As noted earlier in the accounts section, the broker asks you to deposit $10 for its Standard retail account. This is a very advantageous condition and the one that will allow many beginner traders to kickstart their careers in this business.

And to make a deposit – or withdrawal, – you can use the following platforms with very beneficial conditions:
AdvCash – Instant; No maximum limitation; Withdrawals in 1-3 business days
Neteller – Instant; No maximum limitation; Withdrawals in 1-3 business days
Qiwi – Instant; No maximum limitation; Withdrawals in 1-3 business days
Skrill – Instant; No maximum limitation; Withdrawals in 1-3 business days
Visa/Mastercard – Instant; No maximum limitation; Instant withdrawals
Webmoney WME – Instant; No maximum limitation; Withdrawals in 1-3 business days
Webmoney WMZ – Instant; No maximum limitation; Withdrawals in 1-3 business days
Perfect Money – Withdrawals in 1-3 business days
As you can see from this IQ Option Forex broker review, there's a pretty significant selection of financial platforms you can use here. On top of that, all deposits are free of charge, while the withdrawals are charged a fixed 2% commission for every currency with a maximum of $30 cap.
What's IQ Option's execution policy?
Having a top-tier trading platform is great; it effortlessly facilitates the trading process without sacrificing any real performance. And that's very true for IQ Option's execution policy.
Being able to instantly open trade is something that almost all trustworthy brokers are trying to achieve. At IQ Option, instantaneous positions are more like an average condition, not an exception. The speed at which your orders are executed is almost always less than one second, giving you the ability to make most of the tight slippage in prices and much shallower spreads.
Another important aspect of IQ Option's execution policy is its order types. The primary order you can make is a market order, which is known for blazingly-fast trades and many other advantages.
One more advantage that's worth mentioning is the fact that the broker doesn't engage in requotes – a practice of brokers going against their clients in hopes of their failure. According to our IQ Option broker review, the broker is all about helping you generate profits – its income is literally dependent on that.
How to improve trading knowledge at IQ Option?
Now that we're finally drawing to an end of our review, let's turn our attention to how IQ Option contributes to the education of its clients. In fact, the level of encouragement from the broker's part showcases how trustworthy it really is and how it is focused on its clients' success.
As we delved deeper into IQ Option's educational section, we found that there's not an awful lot of differentiated materials available on the website. But that certainly doesn't mean that you cannot improve your trading knowledge with IQ Option.
Here, we will provide every important information about each educational material offered by the broker.
Video tutorials
The first section in IQ Option's education is video tutorials. When we went through this sub-section, we were impressed by just how many individual videos the broker offers to its clients. So, here are these sections and the number of video tutorials they contain:
Basics- 8 videos
Options Trading – 6 videos
CFD Trading – 11 videos
Margin Trading – 2 videos
Technical Analysis – 4 videos
Fundamental Analysis – 5 videos
Market News – 48 videos
Crypto Digest – 49 videos
About Us – 7 videos
Now, it's not just about the number of video materials that is impressive; it's also important to note that these are quite short and informative videos that don't burden you with unnecessary details and whatnot. Plus, they're all uploaded on the Vimeo platform, which allows you to quickly switch between different qualities and have closed captions as well.
The Basics of Margin Trading
Another very significant educational section found during our IQ Option review is "The Basics of Margin Trading" page. Now, this section obviously contains comprehensive explanations about margin, leverage, different margin levels and requirements, and whatnot, but it also provides information about what spreads are, how swaps work, how to do currency conversion, and many other important pieces of information any Forex trader has to know.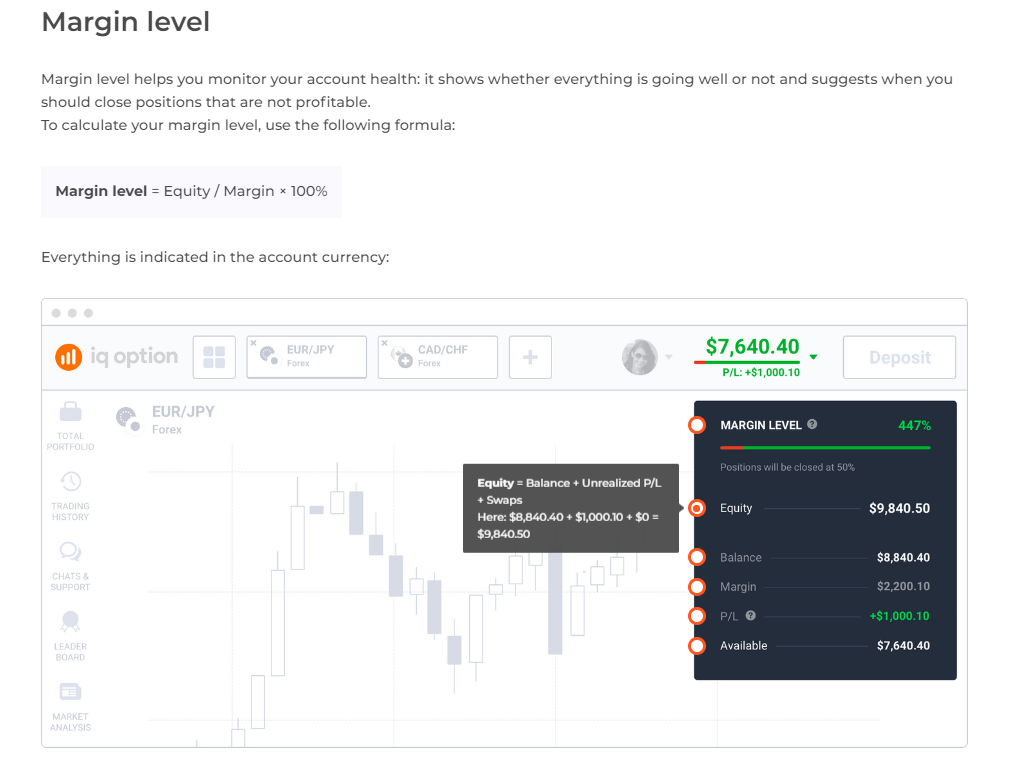 The Help section
Additionally, there's a huge Help section that is another way of saying Frequently Asked Questions. This section contains answers to all sorts of different questions. These questions are categorized into 7 different sub-categories:
General Questions
Depositing Funds
Withdrawing Funds
Tournaments
Account
Verification
Trading
Each of the sections contains at least 5 questions and answers from IQ Option's support team, which is super helpful as it saves you a lot of time and effort.
Glossary
Lastly, there's this glossary section that isn't traditionally implemented on IQ Option's website. You see, the brokers usually put the glossary section directly within the website, yet IQ Option provides term explanations in its blog section. Each of the blogs talks about a certain number of important trading terms, and as our review of IQ Option Forex broker shows, the bloggers do a terrific job at skillfully explaining them.
Which research materials are available at IQ Option?
The next section that is no less important than the educational section is research. Traders use various research tools and features to analyze previous price movements, catch some patterns in them, and try to predict future fluctuations.
At IQ Option, we came across quite a few research materials, and besides their number, they proved to be quite effective in analyzing price movements. These materials include market news, historical quotes, economic calendars, etc.
News Feed
When you enter just about any financial market, you always have to keep in mind that the current developments in the economic and political realms will greatly affect the asset prices. With that in mind, IQ Option provides up-to-date information about various instruments it supports. For instance, with just a few clicks, you can read news about CFDs, Forex pairs, cryptocurrencies, or the markets as a whole. And these news are brought from different trusted publishers, be it CryptoSlate, The Edge Markets, and many more.
Trading ideas, signals, and Traders' Sentiments
The next research section found during our IQ Option broker review contains various trading ideas, price alerts and signals, and the ability to determine Traders' Sentiments. Each of these features works for one sole purpose: to help you better understand the current market developments and enter the market just when it's best for your interests.
Technical and fundamental indicators
Next up, there are hundreds of different technical and fundamental indicators that are probably the most useful in-trading tools found on IQ Option's website. With fundamental indicators and analysis, you can determine the current state of the economy, which directly affects the asset prices; and with technical indicators and analysis, you can find patterns in prior price movements and try to speculate the next movements.
Economic calendar
The economic calendar is yet another feature that chronologically lists all of the major economic developments in finances. By carefully examining all of the elements of the economic calendar, traders get an accurate understanding of what effect everyday political/economic events have on asset prices. And ultimately, all this leads to more lucrative trades.
IQ Option's customer support
Finally, after everything we've said about the broker's trading terms and conditions in this IQ Option Forex broker review, it's time to find out how you can contact the broker if you have any questions or an issue about its platform.
As our team has discovered, IQ Option features the following support methods:
Email support: support@iqoption.com
In-person interaction: Hinds Building, Kingstown, St. Vincent and Grenadines
Phone call: +44 20 8068 0760 (for the UK)
Email support
Email support is one of the most popular ways to get answers to your burning questions about how trading is done at IQ Option. As we found out, this method is pretty fast relative to its other competitors, and offers in-depth responses that actually help you out/
In-person interaction
Another method to contact the broker, which is a little bit out of the box, considering that not many brokers allow this, is to actually go to the IQ Option headquarters and interact in-person. There are two addresses specified on the website:
Hinds Building, Kingstown, St. Vincent and Grenadines
Ionos 20, 4th floor, Flat/Office 401, Egkomi, 2406 Nicosia, Cyprus
Phone call
Finally, there's the phone line support, which, to be fair, seemed the most impressive to us. The reason for that is that it functions 24/7 and is available for a bunch of different areas, namely:
United Kingdom
Brazil
Singapore
India
South Africa
Portugal
Spain
Thailand
Australia
Argentina
Chile
Colombia
Mexico
Vietnam
Taiwan
Macau
UAE
Saudi Arabia
Hong Kong
Indonesia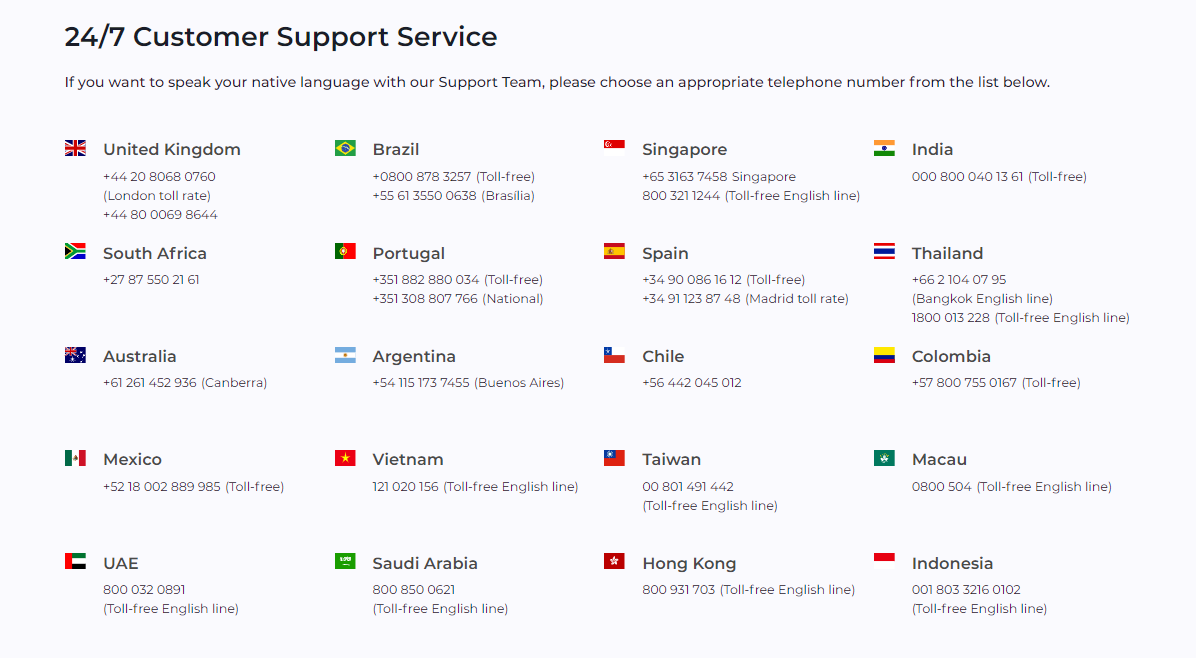 As you can see from this IQ Option review, there are many different methods to contact the broker. And none of them will disappoint you with their responses.
Our final rating – Should you do business with IQ Option?
In this review, we took a close look at every little detail that you need to know about IQ Option. This is a broker that has been operating on the market for 7 years, which has proved to be enough for it to garner quite a fame and fortune. Currently, IQ Option has almost 50 million customers and features in 213 different countries.
The first discussion point of our review was the broker's license. And as we have discovered, IQ Option packs a very credible CySEC license from Cyprus. The reason why we're so confident about this license is that it directly enforces the strict financial guidelines that work in the European Union. Therefore, we have determined that IQ Option is a properly-regulated Forex broker.
Then we moved on to discuss what various trading terms and conditions look like. The following review of IQ Option Forex broker shows that the commissions are pretty accessible, while the leverage goes up to 1:1000. Plus, there are tons of different educational and research materials, not to say stable trading platforms and payment methods.
In short, we can clearly see why IQ Option is regarded so highly among traders and financial analysts alike. This is a broker that radiates trust and professionalism.
Frequently Asked Questions
Is IQ Option legit?
Most certainly. IQ Option has garnered quite a fame and recognition in its 7 years of existence. And that can be directly seen in a sheer number of awards that the broker has received, be it the 2017 Award of Excellence, the Best Technology Application, etc.
But more importantly, IQ Option has a CySEC license from Cyprus that regulates its financial activities. Now, when talking about the CySEC license, it's important to note that this is not a standalone regulatory material; rather, it is fundamentally connected to a financial network of the European Union. And everyone knows that the EU is one of the most financially conscious organizations on the planet.
What bonuses does IQ Option offer?
IQ Option regularly offers different bonus promotions on its platform. During this IQ Option review, we found three different "tournaments":
IQ Launch – $10,000 prize pool
Summertime – $50,000 prize pool
Perfect Trade – $20,000 prize pool
These promotions come and go periodically, but it's important to note that IQ Option always offers such tournaments to its clients.
How easy it is to create an IQ Option account?
As our team has discovered, creating a live trading account is a pretty simple and quick process. First off, you need to press the Sign Up button at the top-right corner of the page, which will take you to a page where you enter your full name, email address, and password. Then you verify the account from your mailbox, which will indicate that a demo account is already yours.
Then, you need to upload some basic documents like a photocopy of your national ID or some other identification document, as well as provide information about your employment status and annual income. After verifying your identity, your live account will be ready to go.
Is there a demo account at IQ Option?
Yes, there absolutely is one. According to IQ Option, you can create a demo account without any strings attached, other than you shouldn't keep it inactive longer than a month. IQ Option's demo account comes with a $10,000 virtual account balance, which automatically refills for you. And you can use the same market conditions as the broker's live accounts do.
RISK WARNING: YOUR CAPITAL MIGHT BE AT RISK